After eight years of successful growth throughout California, CivicSpark—CivicWell's AmeriCorps program dedicated to building capacity for public agencies to address environmental and social equity resilience challenges—will now also respond to the climate resilience needs and ambitions of local governments in Washington and Colorado.
CivicSpark works with organizations whose programs focus on entrenched and emerging environmental and social issues. Our partner organizations are seeking to scale the impact of their programs to address and prevent a variety of climate-change related challenges. 
Partner Recruitment and Placement Has Begun
In an effort to amplify their work, CivicSpark recruits and places Fellows in Partner offices to support community-driven change, program implementation, and policy development. Fellows' service enables Partners to establish and encourage healthy and environmentally-friendly practices in their communities. 
CivicSpark's Partner enrollment for the 2022-23 Service Year is underway, and has been met with enthusiasm by local government agencies and nonprofits alike. With 11 confirmed Partners in Washington and 10 in Colorado, the CivicSpark expansion team is well on its way to meeting its target of 20 and 15 Partners in each state, respectively.
Shaima Shahbaz, Project Manager for CivicSpark Colorado and Washington, looks forward to the inaugural service year in the two states. "As a Colorado native and sustainability advocate I am excited to be supporting CivicSpark's expansion into Washington and Colorado as these states are experiencing climate change challenges similar to those in California," she states. 
"I wholeheartedly believe that the CivicSpark program can make a lasting impact for the better in any community it works in because of its past experience, proven success, and unique focus on capacity building in the climate resilience realm. Every potential Partner I've interviewed so far has expressed their gratitude and optimism about the program's expansion."
A Variety of Opportunities Available for Fellows
Partners offer a diverse array of project types for CivicSpark Fellows. This service year's projects include municipal and nonprofit programs focused on: 
Energy efficiency and emissions reduction through:

Building retrofitting

Electric vehicle infrastructure development

Public transit promotion

Emergency plans drafting

Collaborative urban forestry as a heat mitigation mechanism

Wildfire planning and management for high risk communities

Incorporation of climate change in K-12 school curriculums

Solar energy installation training and community adoption promotion

Affordable housing development
In the eight years since we established the Fellowship, CivicSpark has brought nearly 600 Fellows into over 270 local public agencies, providing over 750,000 hours of service. In addition to their onsite work, Fellows receive extensive training, network development, leadership, and supplemental community service activities to help accelerate their careers. And it pays off—over 70% of past Fellows are still working in the public sector, and more than 80% are working in a relevant field.
Sarah Risher, a 2018-2019 CivicSpark Fellow, recently shared her experience: "Through my placement at the Governor's Office of Emergency Services, CivicSpark catalyzed my career in California climate policy and grant programming. My service year provided me the knowledge, relevant experience, and professional network that led me to my current position as a Program Analyst at the Strategic Growth Council. This role gives me the incredible opportunity to support communities across the state to plan and implement climate equity projects."
Organizations and agencies interested in bringing a CivicSpark Fellow to their communities can learn more on the CivicSpark website. For emerging leaders interested in applying to the Fellowship, more information can be found here.
---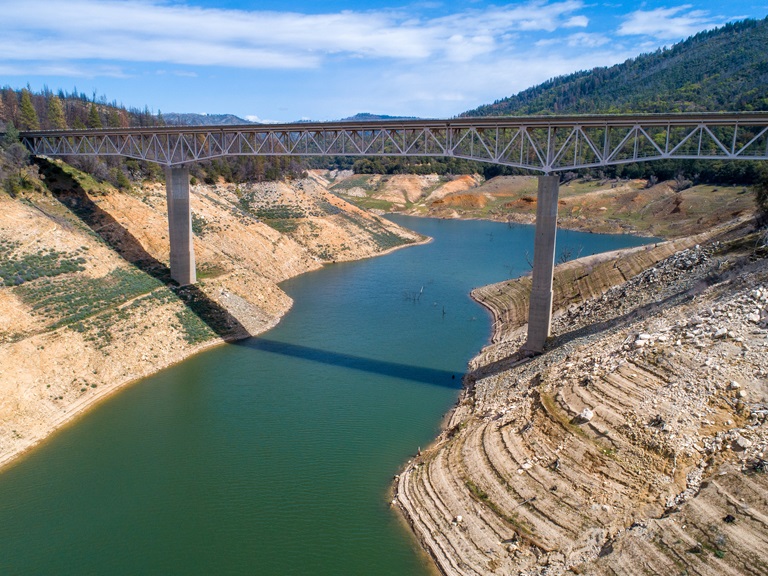 Policy Corner
In late June, the reservoir behind the Oroville Dam, the largest in the state water system, peaked for the year at 51% of normal–another reminder of the crippling drought we are experiencing. The barely half-full reservoir also reminds us that climate change dictates that we dramatically adjust our thinking about—and approach to—water to support the people of California. While conservation must increasingly be a cornerstone of water policy for the state, critical investments are also essential to address both our near-term and long-term needs.
A number of organizations including The Nature Conservancy, Sustainable Conservation, Self-Help Enterprises, American Rivers, Environmental Defense Fund, Community Alliance with Family Farmers, Union of Concerned Scientists, Leadership Council for Justice and Accountability, Audubon California, Community Water Center, the Freshwater Trust, and CivicWell have joined together to advocate several priorities for investments in water equity in the California state budget. Among those priorities are:
Low income water rate assistance

Drought resilience measures

Groundwater recharge

Multibenefit land repurposing

Drought emergency allocations and infrastructure

Drought relief for small and socially disadvantaged farmers

Sustainable Groundwater Management Act (SGMA) planning and implementation

Clean energy sources for wastewater treatment in small communities

Fish and wildlife habitat protection

Crisis assistance to low income undocumented residents at risk of water shutoffs

State Water Resources Control Board (SWRCB) capacity to prepare for and respond to drought.
In each of these priority categories, this coalition has argued for the necessary funding to immediately reduce the impacts of drought on those most severely affected, to meet the urgency of the current drought, and to take crucial steps to establish resilience and equity for the future. For example, we have called for using available federal funds to provide low-income water rate assistance, $15 million to help low income undocumented residents avoid water shutoffs, $50 million to support small and socially-disadvantaged farmers whose wells may go dry or who may lose access to surface water, and $90 million to protect and enhance fish and wildlife habitats. 
For the longer term, we have urged $300 million to implement drought resilience measures, $100 million for SGMA implementation, $50 million for groundwater recharge projects, $50 million for multibenefit land repurposing projects, and $60 million for supporting the use of renewable energy and storage to serve wastewater treatment plants. In addition, to be prepared to respond to the current and future droughts, our coalition recommends $25 million to establish a Drought Section at the SWRCB.
In its budget framework announced in mid-May, the Senate outlined a water and drought resilience package of $7.5 billion with $1.5 billion for safe drinking water, $1.5 billion for watershed climate resilience, $1.5 billion for drought resilient water supply, and $500 million for multibenefit land repurposing to help implement SGMA. 
The Governor's May Revise outlined a $7.2 billion water and drought resilience package that included $1.7 billion for drinking water and wastewater infrastructure, $784 million for small water suppliers drought relief and urban water management grants, $356 million for SGMA implementation, and $175 million for fish and wildlife protection, among other items.
A joint Assembly-Senate budget plan released in mid-June contains a $21 billion climate and energy package that includes water and drought resilience among the categories. As noted in the plan, the specific elements still need to be negotiated. That negotiation will occur during July and, since the plans of both the Senate and Governor encompass a number of our coalition's priorities, we are hopeful that the ultimate package will incorporate many of the programs and purposes we have advocated. 
In many ways, the history of California is the history of water. This state budget will write an important part of the next chapter of that history and it must reflect our devotion to safe and clean drinking water for all, a vibrant and inclusive economy, and the protection of our environment for generations to come.
---

Board Highlight
Three CivicWell Board Members Prevail in June Primaries
A hearty congratulations to CivicWell board members Mayor Catherine Blakespear of the City of Encinitas, Supervisor Leticia Perez of Kern County, and Vice Mayor Lucas Frerichs of the City of Davis for a good showing in their respective races on June 7!
Catherine Blakespear, running for the State Senate, and Leticia Perez, running for the State Assembly, will move on to the November elections. Lucas Frerichs received 65% of the vote and has been elected to the Yolo County Board of Supervisors.
Header photo: A group of CivicSpark Fellows and staff gather for an in-person regional meeting in San Luis Obispo earlier this year.