The launch of 3C-REN's (Tri-County Regional Energy Network's) Multifamily Home Energy Savings Program in October brought the first residential energy efficiency program focused on comprehensive, whole-building upgrades to the Central Coast. The Multifamily Program offers incentives for energy efficient upgrades to eligible multifamily properties throughout San Luis Obispo, Santa Barbara, and Ventura Counties, with goals of lowering energy bills for both property owners and tenants, improving the health and safety of multifamily buildings, making living spaces more comfortable, and reducing energy use to protect the environment.
There are a few unique elements to the design of the program that ensure property owners and tenants both benefit from participation. For project participants, 3C-REN provides no-cost technical assistance. A dedicated Technical Assistant works with a property owner or manager from the initial site assessment through project completion, and provides support in three critical ways, 1) analyzing and recommending equipment and system improvements, 2) supporting the contracting process and implementation of energy efficiency measures, and 3) helping participants identify and obtain incentives from other programs that can be layered on top of 3C-REN incentives to make projects even more affordable.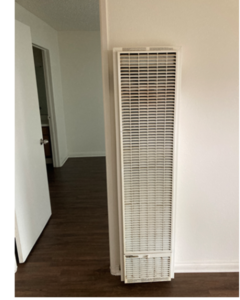 An eligible project must include three or more measures in the project scope, and achieve a minimum annual greenhouse gas savings of 0.25 MT CO2e per apartment unit. By not being overly prescriptive on which upgrades must be done, participants have the flexibility to choose what makes sense based on their project needs and budget. Essentially, any upgrade that saves energy or reduces emissions qualifies in this program. Using greenhouse gas emissions, as opposed to kWh or Therms, as the metric for savings offers an additional layer of flexibility to accommodate project-specific situations, and doesn't require a baseline energy calculation, which includes time-consuming and complicated modeling.
The program offers a base rebate of $500 per apartment unit for market rate apartments, and $750 per apartment for underserved properties. To further encourage high GHG-saving upgrades, the program also offers incentive "kickers" of up to $1000 per unit for installing heat pump technology. 3C-REN Technical Assistants will also connect participants to other complementary incentive programs such as TECH, SOMAH, LIWP, or other IOU and CCE programs that can be leveraged to complete a comprehensive energy upgrade.
Finally, tenants in multifamily properties, particularly renters, have historically been underserved and unable to access the benefits of home energy efficiency upgrades. In order to ensure that tenants in the properties 3C-REN serves are able to experience those benefits – healthier indoor air quality, increased comfort indoors, energy savings – installed upgrades must affect 50-75% of units. It is the hope that this program is a win for multifamily property owners, multifamily residents, and the tri-county region overall.