California continues its push toward reducing emissions 40% below 1990 levels by 2030 – and its goals are centered around decarbonization objectives and solutions that support long-term environmental and economic efforts statewide. In the built environment, such efforts focus on energy efficiency upgrades, adoption of cleaner energy resources and shifting energy use to times of less demand to help meet these ambitious emissions reduction goals. 
The California Energy Commission's Building Decarbonization Assessment emphasizes that implementing these strategies can positively impact individual residents (saving them money through reduced energy bills), communities (supporting grid resiliency and reliability) and the state (helping reach climate goals). These shifts can be accomplished through equitable incentive-based renewable energy programs like the Solar on Multifamily Affordable Housing (SOMAH) Program.
An equitable approach to decarbonization
SOMAH is a statewide program that provides financial incentives for installing solar on multifamily affordable housing (MFAH) in environmental justice and underserved communities. With $1 billion allocated over the life of the program, translating to $100 million annually, SOMAH's goal is to install 300 megawatts (MW) of solar generating capacity on MFAH by 2030. 
SOMAH is the largest investment in residential solar for economic-impacted renters in the country. Its mission is to deliver clean power and energy bill credits to communities located in the 25% most polluted census tracts statewide per the CalEnviroScreen. Created in large part by the advocacy efforts of environmental justice groups and funded by California's Cap-and-Trade Program, SOMAH seeks to expand clean energy access to the communities it serves through a restorative and environmental justice framework. 
SOMAH's goals are accomplished via five areas of focus 
Since its launch in July 2019, SOMAH has made important strides in reaching its 300 MW goal through the support of amazing participants and partners. Accomplishments to date include:
Applications to date:

427 projects representing 65.227 MW of solar

Solar applications in disadvantaged communities:

147 projects representing 23.717 MW of solar

Projects completed to date:

45 which will save 7,980 tons of CO2 per year

Paid job training opportunities:

85

Job trainee residents of completed SOMAH projects:

13
Average savings per tenant after installation: $45-$61 monthly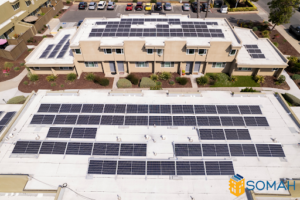 While this progress is encouraging, the SOMAH Program Administrator (PA) recognizes there is more work to be done to install 300 MW. The good news is funding, no-cost Technical Assistance, and a variety of other support services are available to help applicants enroll in the program. Additionally, there are opportunities for government officials, in particular at the local level, to assist the PA through co-marketing relationships in encouraging and engaging MFAH property owners of all types (small, farming, large, tribal, etc.) to participate in this historic program. 
To find out more about how you can connect with the SOMAH PA and bring solar to the communities you serve, contact Mai Fang (mai.fang@calsomah.org) for more information.