Communities across the state are struggling to tackle a growing housing crisis, exacerbated by increasing wildfires that impact frontline and surrounding communities alike.
Five large wildfires in the past two years (including the Camp Fire) have destroyed nearly 21,000 homes across six counties. That's equivalent to more than 85% of all the new housing built in those counties over the past decade, according to the Construction Industry Research Board.
The increasing speed, intensity, scope and frequency of wildfires – in addition to sprawling growth patterns that put more homes and residents into harm's way – is increasing the potential risk and destructiveness of wildfires.
The number of Americans living in wildlands-urban interface lands has doubled since the late 1970s, and 60% of new U.S. homes built since 1990 have been on WUI lands. One in five (20%) of California's houses are now considered highly prone to wildfire.
Santa Rosa, which was ravaged by the Tubbs Fire in October 2017 that destroyed 5% of its housing stock, offers an instructive case study for communities across the state as they rebuild and address their significant local housing crises.
Like many other California cities, Santa Rosa had a housing gap before the fire, which only widened with the significant loss of homes in the firestorm. Recognizing the need to get people back into housing and address their growing housing gap, the region has taken a number of steps to improve its housing approval process.
City of Santa Rosa Housing Gap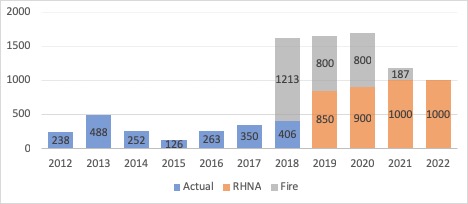 Santa Rosa city officials have sought to accelerate the wildfire recovery by streamlining the permit process for people seeking to rebuild. They have targeted six fire-ravaged neighborhoods for expedited permit approval – they are now meeting five-day turnarounds goals on permits.
The Resilient City Permit Center was created to help expedite the process of design, permitting and review. The center provides:
Dedicated staffing – 6000 peak monthly staff hours (30 positions).
Expedited plan review – five days for minor changes.
24-hour inspection turnaround with no cap.
Landscaping design consultations and plan review.
Fire-plan review assistance.
Water Department assistance, including service reactivations.
Stormwater inspections – average of 1,500 monthly inspections.
Right-of-way safety inspections.
To help review an estimated 3,000 rebuilding permits over the next few years, the City has also contracted with an outside firm to support the workload, ensure rebuilding applications are given priority, and allow other review work to continue without added delay.
The City reduced their permitting fee and approval timeline from $24,000 and 10 months to $9,000 and three months. They are now allowing by-right development downtown, increased building heights and reduced parking requirements. They've also reduced their impact fees and changed ADU policies which have increased the number of ADUs by over 30%.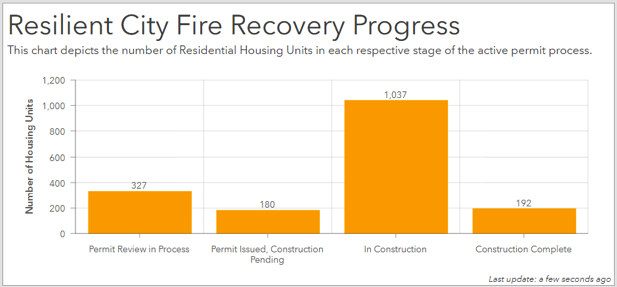 The results speak to the efficacy of their approach- less than a year and a half after the Tubbs fire that ravaged the Santa Rosa area (October 8, 2017) over 1,200 homes have been constructed or are in the rebuild process (as of 3/24/19). Their community dashboard provides real time information on their recovery progress.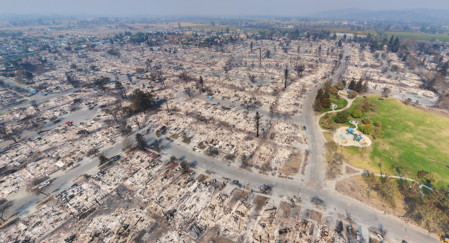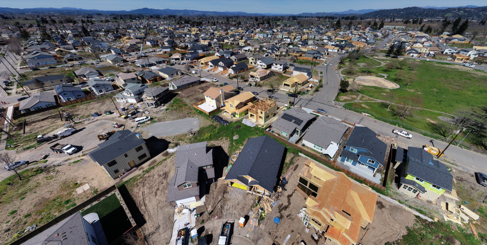 Lessons for All Communities
Santa Rosa was motivated by the need to recover quickly from the fire, but other communities across the state could borrow their strategies to address their own housing crisis apart from disaster response. The City found that while there was an initial investment necessary (to set up the new permit center, pay for the consultants, update their regulations and conduct community outreach) they were actually net-positive after four to five months.
The additional permits they were able to process with increased investments in additional staff and streamlining produced cumulative revenue for the City, which will be directed back into the rebuilding process, says Assistant City Manager David Guhin, who recently described Santa Rosa's renaissance efforts and lessons learned at the Local Government Commission's annual Yosemite Policymakers Conference.
California Communities Treat Housing like a True Crisis
Communities throughout California are taking bold measures to encourage progress on housing development.
The City of Sacramento voted last year to zero out development fees on affordable housing, saving $2,400-$12,000 per home according to Habitat to Humanity.
They also passed a TOD ordinance to provide building-review incentives for multi-unit housing and reduce parking requirements near transit stations. It also prohibits certain auto-oriented uses (such as auto sales and service, gas stations and drive-thru's) within one-quarter mile of a transit hub.
To incentivize growth during the recession, Roseville offered to defer development impact fees for select residential projects So popular and effective at attracting new development the City has continued the program ever since. Most of their new single-family residential developments used the fee deferral.
The Town of Truckee is allowing developers to defer payment until approval of the certificate of occupancy (the last step before move-in). A Mountain Housing Council of Tahoe-Truckee case study showed that for a 77-unit multi-family dwelling the developer would save $171,000 to $287,000 in interest. They are also calculating traffic and public facility impact fees based on square footage instead of the standard practice that assesses the same fee for every housing unit regardless of size, which discourages developers from building smaller units. A multifamily project of 15 apartments at 1,000 square feet each would save over $100,000 under the new practice according to the Mountain Housing Council.
Redwood City and Fresno have both adopted comprehensive new zoning codes, and have proactively completed environmental impact reviews to establish where and how development can proceed. If a proposed project checks off all the boxes specified in one of their zoning codes, it can be approved over the counter, with no need for additional review.
Housing Solutions: Out of the Fire, Into the Future
As local leaders, we know it shouldn't take dual crises to address the growing housing gap. The City of Santa Rosa offers a powerful model of how all communities can respond to the demand for more affordable housing we are all experiencing. We can also take cues from communities across the state that are implementing practical strategies to make it easier and quicker to build the new homes so many Californians desperately need.