Public health and safety measures that have been implemented in the past couple of months to help prevent the spread of the coronavirus have locked down much of our economy, leaving key sectors such as retail, restaurants and tourism on life support and devastating the millions of workers and their families who depend on them.
While these measures have been critical for saving lives and avoiding even more damaging health and social impacts (and potential future economic distress)— they have also devastated local businesses and upended existing business models.
Restaurant analysts and operators have cited an estimate that 75% of the independent restaurants that have been closed to protect Americans from the coronavirus won't make it back. The National Restaurant Association estimated this week that the entire industry would lose $225 billion in the coming three months and shed five to seven million employees across the country.
This will result in a number of significant impacts. In California alone, there were more than 1.8 million restaurant and food-service jobs in 2019, representing 11% of employment in the state. In 2018, there was $97 billion in estimated sales in California's restaurants. Every dollar spent in dine-in restaurants contributes $2.03 to the state economy.
Cities also rely on sales tax revenue from restaurants. For example, in the city of Fresno, restaurants generate $10 million in sales-tax revenue, while the city of Berkeley estimates that food products made up 34.5% of the city's sales-tax revenue as of 2018.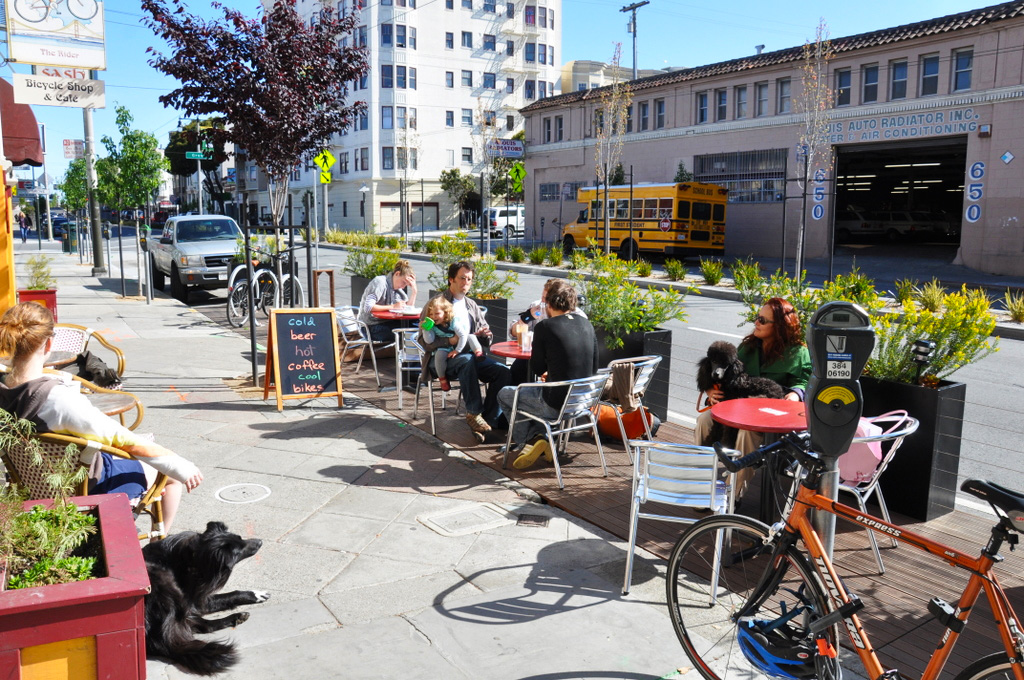 New model: extending capacity outside
Restaurants that survive will have to completely rethink how they do business – government at all levels can play key roles in supporting their transition.
Capacity limits and physical-distancing requirements are challenging for many types of businesses. Restaurants in particular thrive by maximizing the number of customers in their space. Requirements to keep customers 6 feet away and 50%-capacity caps that exist in some states mean that these businesses have 100% of their previous costs (including rent and utilities) but roughly only 50% of the revenue.
Cities across the world are taking steps to support these businesses in this unprecedented time.
By letting restaurants and stores use adjacent sidewalks, parking spaces and streets, local leaders can increase the number of people these establishments can safely serve.
It might also be safer to be outside. Some research suggests that outdoor transmission of the virus is rare.
"The likelihood of a successful infection occurring from an exposure outside is likely less because the sunlight may damage the virus as it passes through the air between people," said Julian Tang, a virologist at the University of Leicester in England.
As long as surfaces are wiped down regularly, patrons and servers are appropriately far apart from each other, and everyone washes their hands regularly, outdoor-café virus transmission shouldn't be easy, according to experts.
Several California cities, including San Mateo, San Jose, Long Beach and Sacramento, have announced plans to let restaurants expand outdoor dining – joining cities across the nation and the globe implementing similar measures.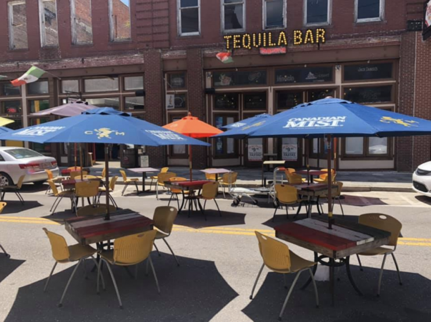 Key planning considerations for expanding outdoors
Reduce processing time: Approval processes for sidewalk use or parklets can often be lengthy. In Dallas, Assistant City Manager Majed al-Ghafry said staffers will take no more than three days to approve permit applications, and no more than a day to renew them.
Set time periods for permits: Dallas is issuing 10-day temporary permits with renewal up to 60 days other cities are issuing 90-day temporary permits.
Offer no-cost temporary permits: The City of Brookhaven, north of Atlanta, now permits restaurants to apply for new Temporary Outdoor Restaurant Operations Permits at no-cost. The permit allows restaurants to use tents, parking lots and other outdoor spaces as potential seating areas that might not otherwise fall under the city's normal code ordinances. The temporary outdoor permit can be submitted by email, and there is no cost to the restaurant. Under the permit, restaurants can use 10'–by-10' tents in their parking lots to meet the spacing requirements for up to 90 days.
"I can see people in parking lots and front yards. I can see them being in the alleyway, behind the restaurant," said Brookhaven Mayor John Ernst, Jr. "We're saying, 'Hey, use your imagination.'"
Waive permits: City officials in Flemington, NJ, and Tampa, FL, temporarily waived the requirement for a permit for sidewalk use. In Flemington, the outdoor seating areas must be located on a sidewalk or privately owned property adjacent to the main restaurant building and in an area unenclosed by fixed walls or ceilings, except for retractable awnings, umbrellas or other non-permanent enclosures. All of the setup materials, such as tables, chairs, umbrellas and lamps, must also be removable.
Close streets: Tampa has closed off streets entirely to open them up for dining and retail. San Mateo and Sacramento are considering shutting down street blocks for outdoor dining. The City of Rockland, Maine, approved a proposal to shut down all vehicle traffic on its Main Street during June.
Adapt parking lots: St. Petersburg, FL, is permitting restaurants to use their parking lots as dining spaces. In Concord, NH, restaurants with parking lots on private property can use their available parking space. In the case where outdoor-dining plans conflict with required parking regulations, the city's community development team will work with the business owner to meet the requirements.
Assign zones: On May 4, Tampa launched a Business Recovery Zones pilot program with seven designated Cafe and Retail Zones (road closures) for businesses in concentrated areas which will run for 14 days.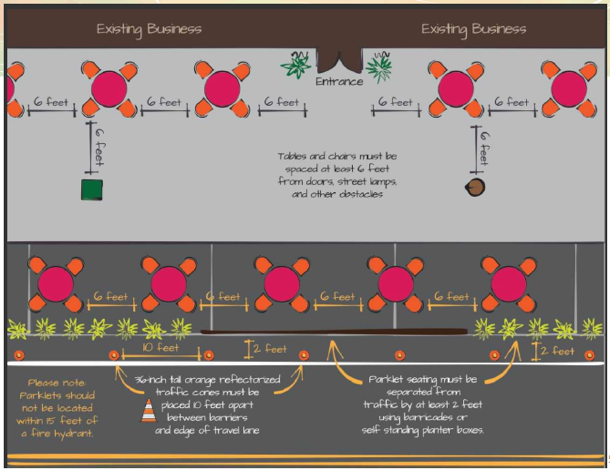 Create parklets: Tampa is allowing for the use of on-street parking spots as parklets. Cities can reduce or waive fees, and speed up approval processes for existing parklet programs.
Refine branding: Sacramento's new "Farm-to-Fork Al Fresco" program builds on their farm-to-fork marketing. Storefront Improvement Programs can help revitalize building facades and provide free professional design assistance and financial incentives to small business owners who wish to make creative changes to improve the curb appeal of their storefronts. Local leaders have also successfully promoted local restaurants through their social media channels.
Collaborate with stakeholders: San Mateo's task force includes restaurant owners, City Hall's economic development team and the Chamber of Commerce. In Melbourne, FL, the city's economic task force includes representatives from City Hall, Melbourne Main Street and the Melbourne Regional Chamber, the Eau Gallie Arts District and Orlando Melbourne International Airport.
Set approval requirements and responsibilities: Cities require terms for restaurants to assume responsibility for various actions, including:
Daily clean-up of the right of way of debris left by customers.
Use of furniture and where it's stored.
Removable barriers and furniture.
Signing a hold-harmless and indemnification agreement.
Providing proof of liability insurance (Parkersburg, WV, is requiring a policy of at least $1 million).
Providing proof of liability insurance naming the City as additional insured.
Compliance with the state liquor board to extend their premise for their liquor license. California's Alcoholic Beverage Control's new Temporary Catering Authorization will allow restaurants and bars to create an outdoor area to consume food and alcohol. If a restaurant is approved, it can expand operations to parking lots, sidewalks, public thoroughfares closed to public access, and other areas within close proximity to the business. The authorization goes beyond a traditional liquor license, which restricts the purchase and consumption of alcohol to the restaurant's premises.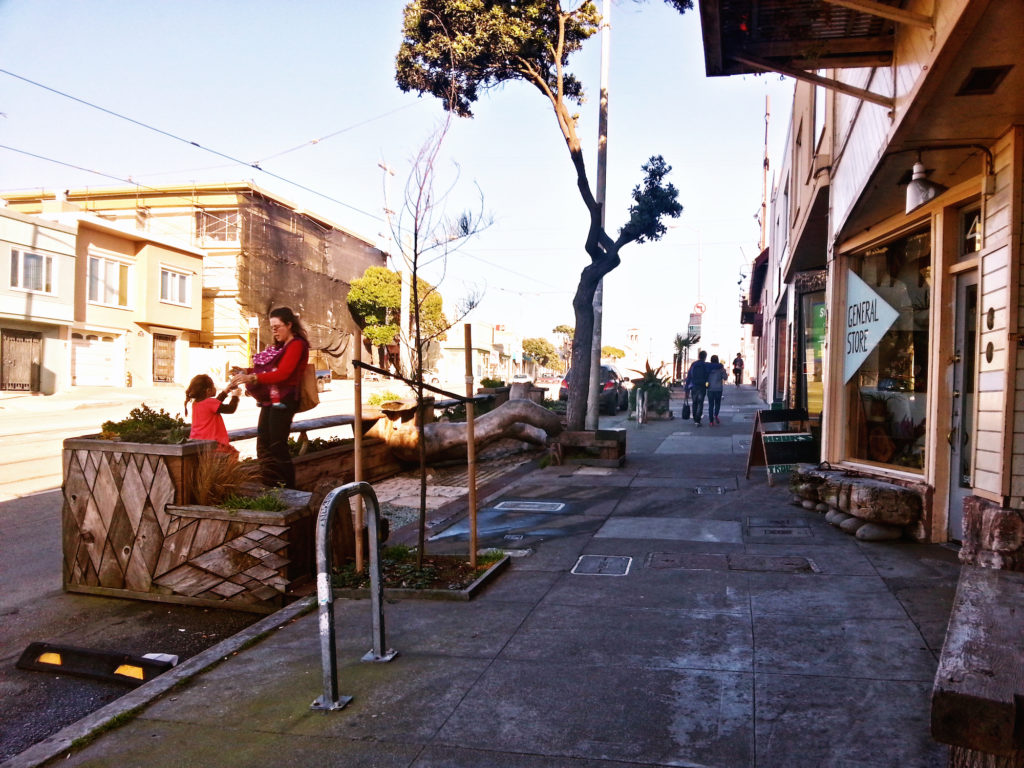 Restaurants will also have to comply with state guidance measures. In California, these steps include symptom screening or temperature checks for employees, mandatory physical distancing of six feet or more between workers and diners, disposable or digital menus, and face coverings for all workers who interact with patrons.
City officials, working with their county public-health departments and business community, should work together to assess the efficacy of new measures and monitor changes in infection rates and be prepared to refine re-opening rules.
"The bottom line is people can go at their own pace, and we are empowering our local health directors and county officials who understand their local communities and conditions better than anyone," Governor Newsom said during a May 18 news conference at Mustards Grill in Napa.
Feeding our economic health
Neighborhood restaurants are a core component of livable, walkable communities. Supporting the owners and workers of this critical industry is vital – not just to revive jobs, economic development and government revenue for public services but also to sustain the ongoing success and vibrancy of our downtowns and neighborhood commercial districts.
Local governments have an urgent opportunity to support restaurateurs by eliminating barriers to outdoor dining and facilitating creative uses of public spaces to preserve these treasured community institutions and businesses that are the engine of our economic and prosperity.