From transportation networks to electrical grids, the backbone industries that shape our cities – and help us move people, materials and ideas ever more quickly and widely – are being disrupted in fundamental ways, often by orders of magnitude.
Yet, for all the challenges we are facing around affordability, we haven't seen the same level of transformative innovation and game-changing paradigms and practices in the production and supply of housing. Although many cities are adopting new policies and fostering smarter investment and financing strategies, the overall math and methods of building new, affordable homes are stuck in the past.
Construction methods of low-rise, wood-frame homes still essentially resemble those of the 1940s.
The quality of building products has significantly improved but not the basics of constructing a home.
What affects construction productivity?
The construction productivity rate – how much building workers do for each hour of labor they put in – has been flat since 1945, according to the McKinsey Global Institute. In fact, productivity in construction is actually lower now than it was in 1968.
Over that period, sectors like agriculture, manufacturing and retail saw their productivity rates surge by as much as 1,500%. In other words, while the rest of the economy has been supercharged by machines, computers and robots, construction companies are about as efficient as they were in World War II.
In addition to the planning and zoning challenges that have been documented in previous Livable Places Updates, home design and construction approaches no longer answer today's demands and must be reconsidered to identify substantive solutions that significantly minimize a home's carbon footprint and address the increasing costs of materials, labor, land and infrastructure that too often put housing beyond the reach of many residents.
Cost and availability of labor, according to a National Association of Home Builders 2017 survey is now the number-one challenge for developers.
Construction prices have risen about 5% annually nationwide for the past three years, according to the Turner Building Cost Index. Costs have gone up even faster across California. In the Bay Area, builders say construction prices are up 30% over the past three years, according to RSMeans.
Other countries in Europe, Australia and Asia have dealt with these challenges by investing in modular (constructing a complete unit in a plant) and or panelized (building just the walls in the plant) prefabricated building.
One reason the United States has lagged behind is that the vast supply of open land here has kept the cost of single-family-home building relatively low. Moreover, in Europe, labor is more expensive, environmental regulations are more stringent, and more people live in rented multifamily housing – factors which are not as sensitive to swings in the economy as American single-family real estate.
Modular opportunities can be game-changers
But rising costs have prompted developers to go scrambling for cheaper and less labor-intensive construction methods. The technologies vary but generally involve simplifying construction through prefabricated panels that can be assembled like Ikea furniture; and modular apartments that can be stacked together like Lego bricks. FMI, a management-consulting and investment banking company, recently found that, in the engineering and construction industry, a third of respondents were looking at some form of off-site construction – a steep rise from 2010.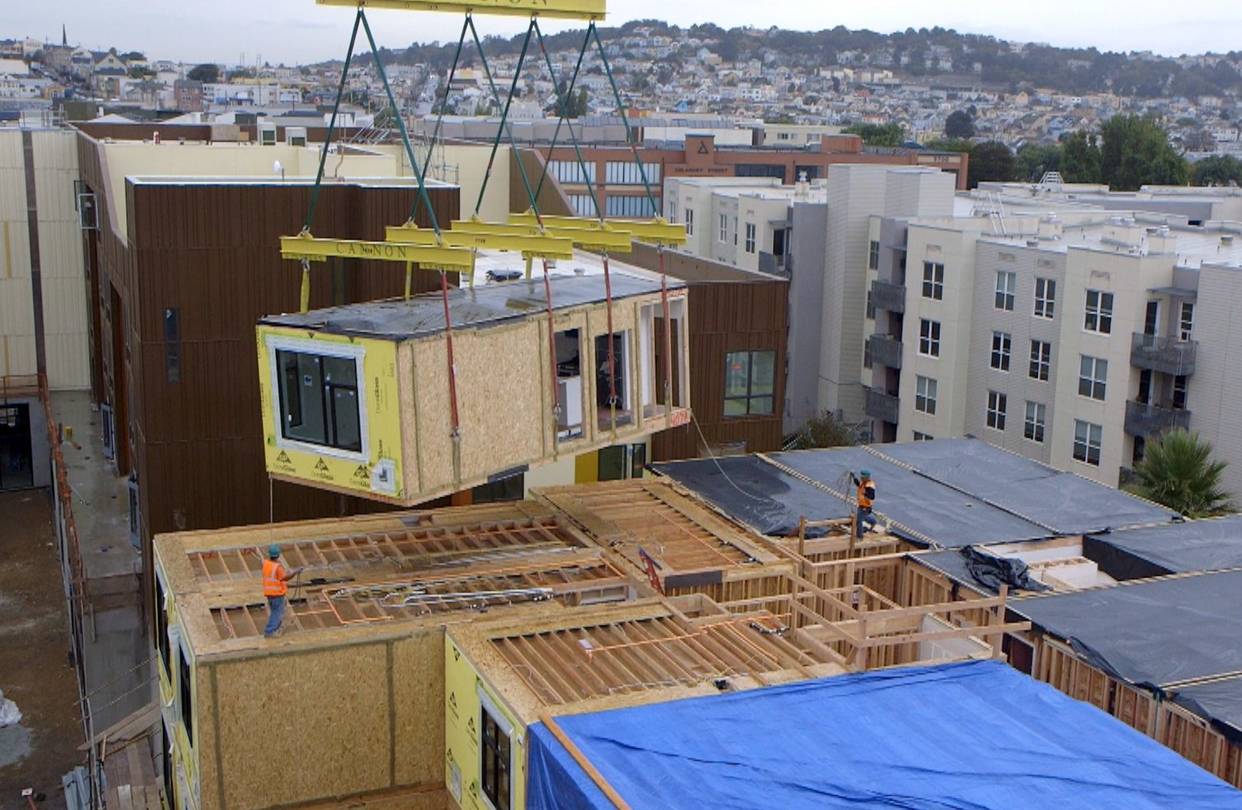 Modular construction can cut costs by 20% and speed up production by between 20% and 40%. Modular building is unaffected by weather and seasonal changes; and it allows job-site foundation work and home construction to occur at the same time.
Modular developers "can cut the build time on multifamily housing by 50%," said Rick Holiday of Factory OS. "What has been taking two years for 100 apartments, we can do in a year or less."
Investors are taking notice and investing in start-ups: Katerra, a three-year-old prefabricated building company in the Silicon Valley city of Menlo Park, has raised $1.1 billion in venture capital. A number of other building start-ups, including Seattle's Blokable, Kasita, based in Austin, and Oakland-based RAD Urban have all popped up over the past five years.
Modern manufactured homes have become far sturdier and more energy-efficient since the 1970s. Precision cutting and indoor material storage reduce construction waste by more than a third; and reduced transportation operations also cut their carbon intensity.
Upending construction practices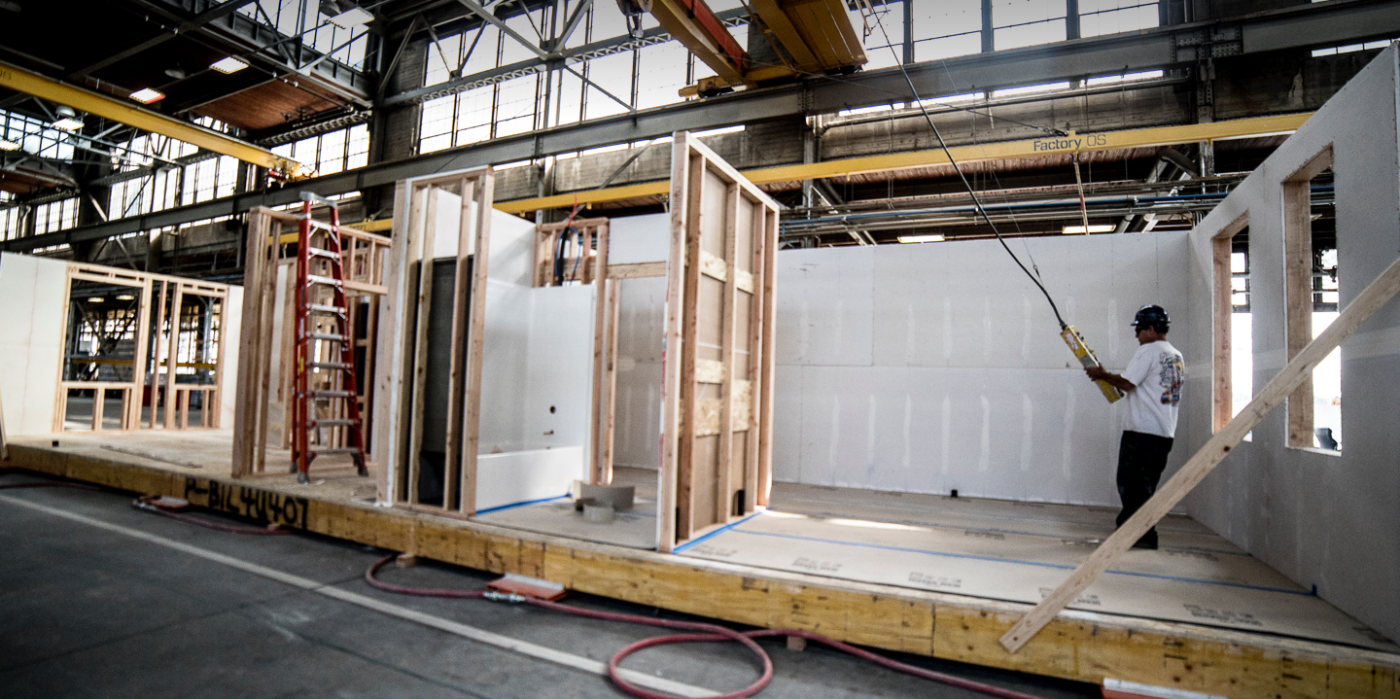 The way that most large buildings get built hasn't changed much from 50 years ago. It all starts with the developer, who secures a piece of land and a loan, and gets project approvals from the government. An architect is hired who brings in consultants such as engineers and landscape architects, When the design is finished, the owner puts it out for bids from general contractors who pass it to subcontractors for plumbing and sheet metal work, who often pass it to even more subcontractors.
Having so many cooks in the kitchen leads can lead to misunderstandings and finger-pointing. Mix in volatile material prices and a shortage of skilled labor, and you have, in the now-familiar parlance of Silicon Valley, an industry waiting to be disrupted.
Prefabricated building companies seek to turn this model on its head. Instead of offloading risk, the contractor assumes all of it. Instead of sending jobs to subcontractors, they hire their own factory workers.
For workers, factory building seems to mean lower wages but steadier work. Factory OS pays about $30 an hour with medical insurance and two weeks of vacation. That's about half of what workers can make on a construction site. However, the work is more regular and, for many, requires less commuting.
Some of these companies have run into challenges with labor unions: for example, Factory OS has a contract with the Northern California Carpenters Regional Council but within the current construction-site housing model, there is a broader range of unions representing plumbers, electricians, carpenters and various other trades who each control their piece of the building process.
There has also been a shift from companies investing in single-family prefabricated homes to higher-density condominiums and apartments. That's because, while single-family home construction remains well below its level before the recession, multi-family condominium and apartment buildings have rebounded strongly.
Cities are choosing modular
San Francisco
San Francisco Mayor London Breed committed the City to purchasing $100 million worth of modular affordable housing to address their housing crisis and sweeten a deal to establish a modular-housing factory in San Francisco.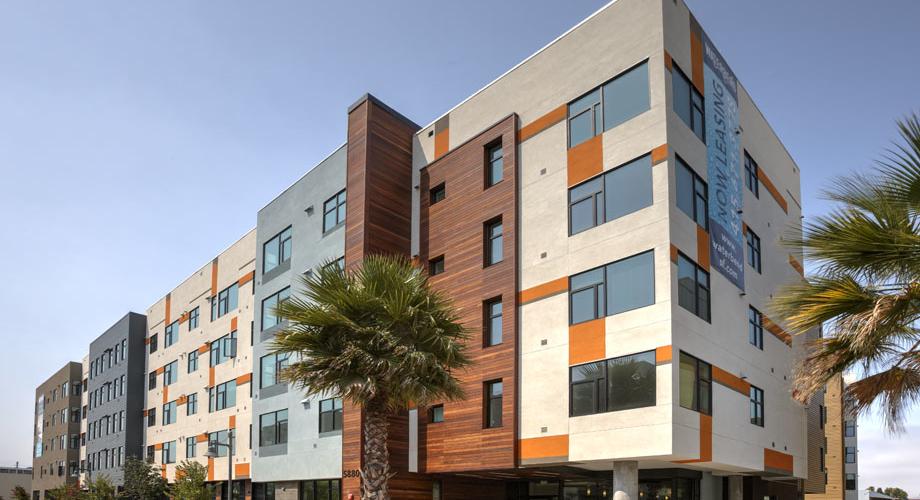 "By building a modular housing factory in our own backyard, we can create housing faster and more cost-effectively, while also creating great union jobs in partnership with our labor leaders," Breed said.
A single affordable unit in San Francisco typically costs between $750,000 and $800,000, including the cost of the land, the San Francisco Chronicle reports. The City usually covers just under half of that cost. Modular construction could save about $50,000 on the cost of each unit, according to Kate Hartley, director of the Mayor's Office of Housing and Community Development. She said the City's $100-million commitment could build around 400 units over a year or two once the factory is built.
Oakland
Factory OS, based nearby on Mare Island, is building modular studios for formerly homeless people in West Oakland, 110 apartments for a Holliday Development project in West Oakland, and 300 homes for tech giant Alphabet, Google's parent company.
Another local company, RAD Urban based in Oakland, will start producing modules for its first Oakland high-rise at 1433 Webster St. That site will provide 168 apartments in 15 stories and cost roughly $80 million ($476,000 per unit).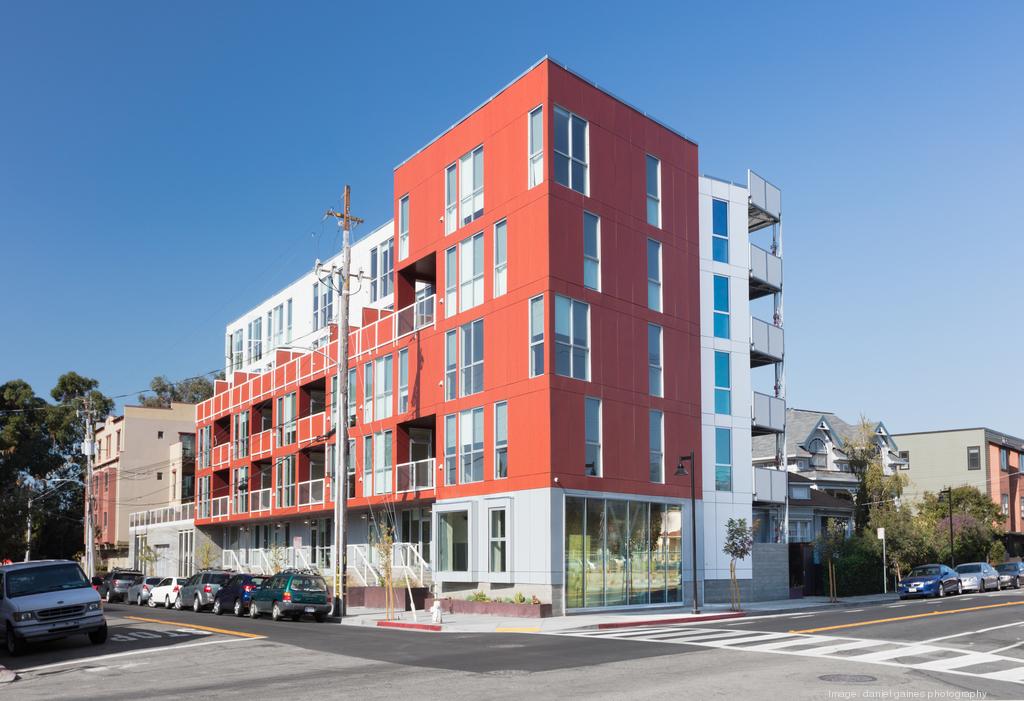 The second high-rise, at 2044 Franklin St., features a 357-unit, 22-story tower. RAD anticipates that construction on both towers will be completed by the end of 2020.
Berkeley
RAD Urban is also building a five-unit pilot project, to be followed by two student housing projects in Berkeley consisting of 77 and 43 units. After that are two projects on Telegraph Avenue. RAD's factory is in the middle of pushing out 120 modules for 4700 Telegraph Ave. that will contain 48 apartments ranging from studios to two-bedroom units.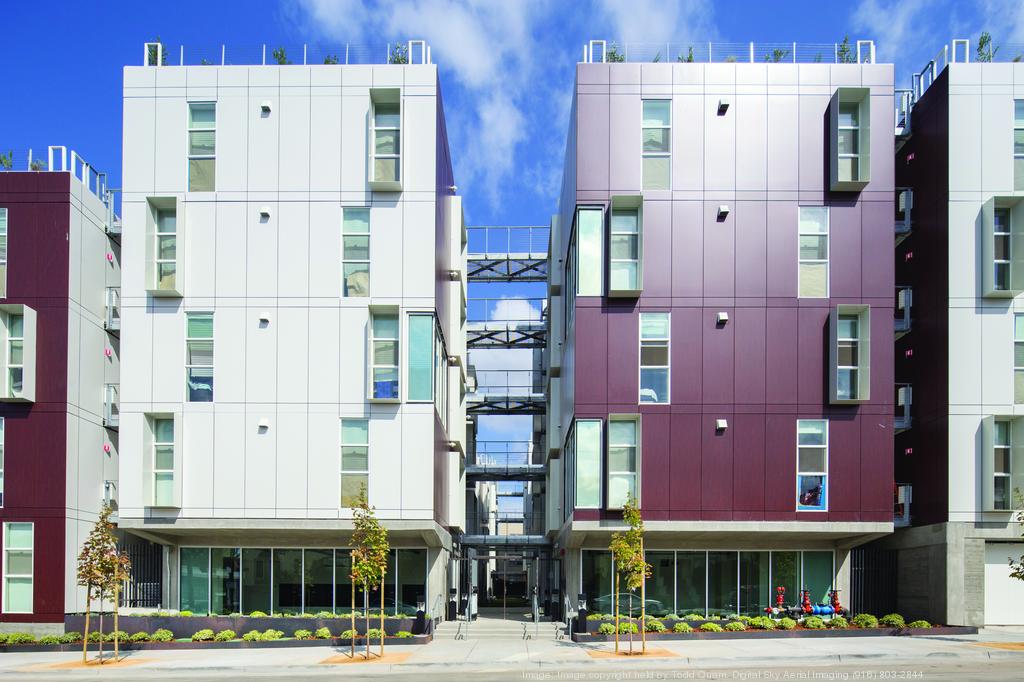 New York City
Recognizing its urgent housing needs, New York City is also making modular construction a priority. The administration called for its use in its recently released Housing New York 2.0 Plan, which aims for 300,000 new or preserved units of housing by 2026. The report says modular construction can "significantly reduce development time and cost, increasing the efficiency of the city's affordable housing investments and bringing new affordable homes to the market faster."
After Hurricane Sandy, the City constructed almost 100 single-family modular homes as part of its Build It Back program. Last year, it issued an RFP for its first mandated modular project: a 100%-affordable residential building on Grant Avenue in East New York.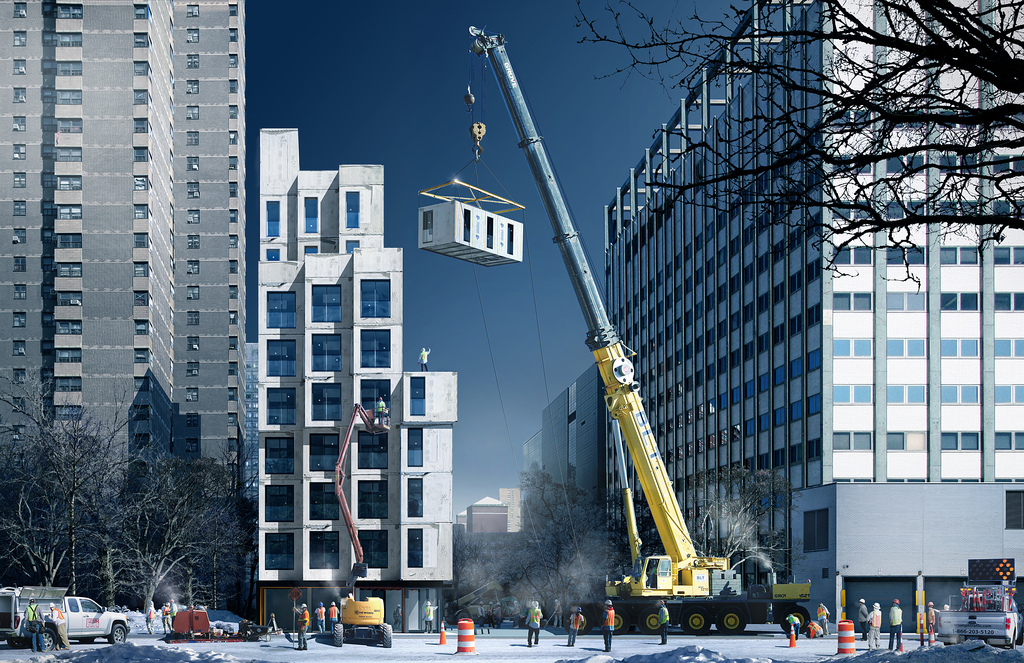 After Hurricane Sandy, the City constructed almost 100 single-family modular homes as part of its Build It Back program. Last year, it issued an RFP for its first mandated modular project: a 100%-affordable residential building on Grant Avenue in East New York.
What local governments can do
As local leaders across the nation grapple with the intractable challenge of providing affordable housing across a full range of income levels, innovation in construction techniques is one of many necessary solutions. Local governments can support this innovation by providing business incentives for the burgeoning industry, helping to create demand by purchasing units, facilitating agreements with unions, and aligning planning documents and policy goals.
Resources
Header photo is by Jenny Stephens/RSHP via New Statesman