As more people move into cities to be closer to job centers and other amenities, they are often giving up larger homes in exchange for communities that are closer to jobs, schools, shops, restaurants and services, and that offer a wider range of transportation options.
In densely populated areas, where people live in smaller spaces with less outdoor private space, it's especially critical for the health and well-being of residents that cities create shared open space that everyone can use.
Excellent public space is a key piece to the puzzle of livable communities and urban infrastructure. Public spaces such as parks and walkways are also an ideal place for Americans to meet the national recommendations for physical activity (60 minutes a day for youth and 150 minutes a week for adults).
Public spaces can raise the price of adjoining land and structures, provide appealing destinations for tourism and recreation, and provide welcoming spaces for social interaction and public gatherings. Yet, the average annual per-capita expenditure for parks in 2013 was only $73 (with a range of $9-$247) among the 100 largest U.S. cities.
Alleyways: New Paths to Public Spaces
Redesigning our public spaces goes beyond the obvious design elements of parks and public plazas. Cities across the globe have successfully used alleys as public space.
In Australia, the City of Melbourne has turned its "laneways" into some of its liveliest bar-and-restaurant scenes. Montreal has cultivated 250 "ruelles vertes" (green alleyways) as neighborhood gathering and play space. Other cities from Kyoto to Istanbul to Stockholm have also attracted pedestrians to their alleys for centuries.
Now, American cities like Detroit, Chicago, Nashville and Seattle are rethinking their alleyways, too.
A 2011 report by University of Washington graduate students found that there are 217,000 square feet of public alley space in Seattle's downtown, 85% of which are underused. The report estimated that reinvigorating alleyways could increase the number of total public space in the city by 50%.
"The American alley is on the rise," according to Daniel Toole, author of Tight Urbanism, "Because I think the alley in an Asian or European city goes through cycles – they're more built into the fabric. They were always a place for people to be, whereas in America they were for horses or cars or garbage, and now we're starting to realize they're just as powerful as a park or plaza, potentially."
Much of this early work in the U.S. was initiated by citizens. In places like Detroit and Seattle, community groups have raised funds for DIY-style, neighborhood-alley improvements.
Detroit's community-led efforts, just outside downtown, started the Detroit Green Alley, a demonstration project where environmentalists teamed up with a brewery. Now, alleys in the city are being resurfaced and greened up one by one with funding from Midtown Detroit, Inc., a local community-development organization.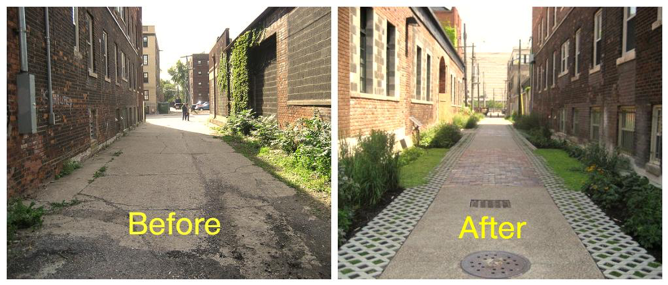 The new wave of alley redesigns includes large-scale projects such as Jade Alley's parabolic arches and flowering trees in Miami's Design District where a once-decaying neighborhood between Miami Beach and Midtown was reimagined into an art gallery of an outdoor mall, with facades on high-end stores like Bvlgari, Hermès and Piaget.
Equitable Public Access: Evening the Playing Field
Once you create these public spaces, you need to make sure everybody can use them.
The City of Seattle has recognized that having public spaces and parks and isn't always enough. After complaints about soccer fields dominated by soccer leagues with players who can afford sizable league fees, the community decided to take steps to even the playing field for soccer players of all socioeconomic status.
"You want to be part of an organization that has money to get the fields," said Courtney Brown, the athletic scheduling manager for Seattle Parks and Recreation, speaking generally about American soccer today. "Soccer is pretty organized. If you aren't part of [a big club] you aren't getting in."
A few years ago, City officials and soccer supporters began discussing the inequality this system presents. Officials feared they weren't doing enough to help underserved kids get on to the city's fields.
With a push from Doug Andreassen, a former president of Washington Youth Soccer and head of a panel examining diversity issues for the U.S. Soccer Federation, Seattle started to look for ways to even up access to its athletic fields.
In July, the City began leasing the big soccer clubs fewer hours on the city's fields so it could offer those hours to leagues in underserved neighborhoods.
The strategy aligns with Seattle's Racial Equity Toolkit, a City-mandated flowchart designed to help eliminate institutional and structural racism. Next year, at least once a week, some fields won't be rented at all but instead left open for free use, to allow the kind of casual pick-up games being discouraged by bureaucratic rules.
Unlikely Public Spaces
Imagining a great public space sometimes just takes a bit of adaptive reuse – with a lot of community involvement.
High Line Park in Manhattan
In New York City, High Line Park, located on a former freight line on Manhattan's west side, is another example of nontraditional public spaces.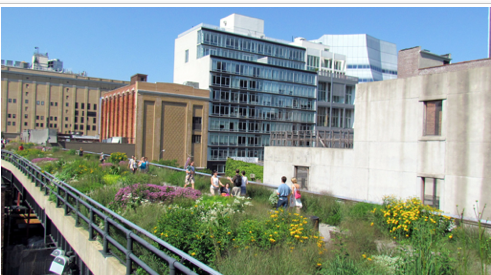 Now a 1.5-mile-long park. the High Line was once a rail line, elevated 30 feet high, operating from 1934-1980 to carry goods from the west side docks to nearby factories in Manhattan. When containerized shipping was introduced the factories and the port died off, the High Line sat unused and largely abandoned.
In 1999, neighborhood residents formed the "Friends of High Line" nonprofit to advocate for the preservation of the High Line as part of a larger West Side improvement project.
With the support of Mayor Bloomberg, who took office in 2002, the area was rezoned to establish the special West Chelsea district and allow mixed uses. They also implemented tools and provisions to create tax revenue to offset the City's renovation costs for the park. Among these strategies were provisions that let developers build higher than zoning allowed for $50 per square foot fee and a transferable development rights (TDRs) area which allowed property owners to sell their new, unbuilt TDRs to noncontiguous landowners. A 30% zoning set-aside for affordable housing helped address concerns about gentrification.
The owner of the railroad structure donated the High Line to the City in exchange for release of all liabilities. Capital construction for the park cost $152.3 million ($112.2 million from the City, $20 million in federal funding and $400,000 from the state).
Construction began in 2006, and the new park opened in 2009. Sustainability measures include native, drought-tolerant, low-maintenance species and onsite composting. The park also functions as a green roof, and its porous pathways allow water to drain and reduce stormwater that runs into the sewer system.
The park is owned by the City of New York and maintained, operated and programmed by the Parks and Recreation Department in partnership with the Friends of the High Line. The Friends of the High Line provide 98% of the park's annual budget. By July 2014, the park had hosted more than 20 million visitors and now features 450 programs and activities each year.
By 2013, the City's analysis put the economic benefit of the park at close to a billion dollars. Accounting for the City's investment of about $115 million, its net benefit over 20 years will be more than $900 million – a return on investment of more than 800% (Broder 2012).

Seattle's Gas Works Park
Seattle transformed one of its least-valued pieces of private land into one of their most popular parks.
Gas Works Park, which sits on 20.5 acres north of downtown Seattle along the north shore of Lake Union that offers stunning views of the Seattle skyline, previously functioned as a gas manufacturing plant and former garbage-burning site.
When the plant closed in 1956, it only served as an eyesore for the neighborhood.
The City purchased the land for $1.3 million and allocated $1.75 million to transform the polluted site into a thriving urban space.
Architect Richard Haag, who was commissioned to plan the park, campaigned tirelessly to incorporate the history of the park, keeping the "postindustrial ruins" of the gas plant on site. The old boiler house was converted into a picnic area and the former exhauster-compressor building was transformed into an open-air play barn.
Through bioremediation, using microorganisms to consume and break down environmental pollutants, Seattle residents saw natural vegetation growing back within the first year. The park design encouraged dynamic breakdown of pollutants through the site, managed stormwater, and nourished self-sustaining landscaping.
The park was opened to the public in stages between 1973 and 1976, Owned and operated by the City Parks and Recreation Department. The nonprofit "Friends of Gas Works Park" was formed in early 2000s to maintain the park.
While the City faced ongoing contamination challenges that needed to be addressed, the park is now a tremendous public asset for the community. It was listed as a Seattle historical landmark in 1999, and is also on the Washington State Historic Register and the National Register of Historic Places.
Designated a national landmark in 2013, Gas Works Park has become one of Seattle's most popular parks.
POGO Pocket Park in Richmond, CA
Park projects don't always have to be grand in scale – Pogo Park, a local nonprofit organization, focused its efforts on transforming Elm Playlot, a half-acre "pocket park" that lies a low-income, underserved neighborhood in the heart of Richmond's "Iron Triangle."
With a $1.94-million capital grant from the State of California Parks Department and the tireless leadership of community leaders, Elm Playlot is now a visible symbol of hope and change in a neighborhood where every other public works project has failed.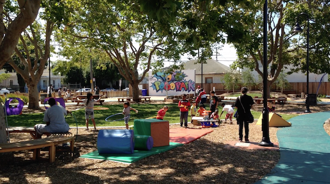 Pogo Park's process for rebuilding Elm Playlot – "from the inside/out" – is being hailed by the State of California Parks Department and others as a national model for what real, deep, and authentic community engagement looks like.
The park now includes a community center with a kitchen, bathrooms; a zip line, disc swings and a "Global Village" of child-sized houses; a separate tot lot for toddlers; the "chill zone" where children participate in arts and crafts, play chess, or build with blocks. It serves thousands of children who live within walking distance.
Pogo Park has received subsequent grants to expand their work including a $6.4-million grant from the City of Richmond to build the first leg of the "Yellow Brick Road" – a project to build a safe walk-bike street through the heart of the neighborhood.
In 2017, Pogo Park was recognized with a "Community Leadership Award" from the San Francisco Foundation, and was featured among other outstanding parks around the world in "The Field Guide for Parks and Creative Placemaking."
Recommendations
A new research study from the RAND Corporation, City Parks Alliance and The Trust for Public Land analyzed 175 neighborhood parks in 25 major American cities. From 2014 to 2016, they observed park use, park-based physical activity, park conditions and user feedback. The study points to tangible ways that cities can encourage residents to use parks more in general, and for physical activity in particular.
Improve Facilities and Amenities: To encourage park use, communities should consider features that are attractive to a range of people acrossage, gender and socioeconomic status. Most parks are geared toward youth – nearly all of the parks in the study had outdoor basketball courts and baseball fields, but only a third had a walking loop (which generates the most activity for adults and seniors).Seniors make up 20% of the U.S. population; targeted efforts to engage them would provide health benefits and increase overall park usage.
Add Targeted Programming: Programs and activities, such as the ones offered at High Line Park, are key to maximizing park use by a wide audience. Parks need to "provide professional staff to organize more programming locally that serves the needs of that particular neighborhood," according to Catherine Nagle, City Parks Alliance's executive director. They found that supervised activities, such as dog training, increased average park use by 48%. Yet, more than half of the parks surveyed had no supervised programs at all.
Complement Programs with Effective Marketing: Humans are social by nature, and activities can help draw residents in, especially if those program activities are paired with effective marketing to ensure that people know what's available in their parks. Outreach materials like banners and signs advertising park activities led to a more than 60% increase in both the number of park users and the number of hours those users exercised.
Find the Funding: Parks are often funded through a mix of local, state and federal funding (e.g., Community Development Block Grants and the Land and Water Conservation Fund). Private philanthropy can help, although it rarely occurs in lower-income neighborhoods. Cities are also partnering with national nonprofits such as KABOOM! or local community groups (like Friends of High Line, Friends of Gas Works Park and Pogo Park). Crowdfunding campaigns and corporate sponsorship can also fill in funding gaps.
Communities Can Create Better Public Spaces
As we bring more people to our cities, we also need to bring nature to the people. With limited available land, this often requires creative design solutions, collaborative partnerships and a package of multiple funding sources. The good news is that there is a wide spectrum of options – from multi-million dollar projects that completely change the landscape to relatively modest pilots and tactical-urbanism techniques – that can improve conditions to increase usage and physical activity for everyone, regardless of age, gender or income level.
Resources
The Sustainable City (2017)
KaBOOM!: Play Matters for All Kids
https://www.citylab.com/environment/2017/10/improving-the-public-health-tool-in-our-backyards/543303/
The First National Study of Neighborhood Parks: https://www.ncbi.nlm.nih.gov/pubmed/27209496
Funding
Proposition 68 the California Drought, Water, Parks, Climate, Coastal Protection, and Outdoor Access for All Act of 2018 allocates $725 million to the State Department of Parks and Recreation for grants to fund local park development and improvement in park-poor neighborhoods. At least 20% of funds target the renovation of existing parks and $48 million is earmarked for the Central Valley, Inland Empire, gateway, and rural and desert communities.
The Urban and Community Forestry California Climate Investment Grants, administered by the California Department of Forestry and Fire Protection (CalFIRE), provides competitive grant funding on an annual basis to cities, counties, districts, JPAs, and nonprofit organizations to maintain the lifecycle of urban forests (tree planting, forest management, and recycling/wood biomass). 65% of applicants received grant funding, ranging from $150,000 – $1.5 million each for a total of $17.7 million for 2017/2018.
"Smart-Growth Money: New Funding Strategies for Community Improvements" explores funding tools and strategies that will help local leaders identify funding sources and stretch limited Dollars The examines 12 funding strategies each chapter describes the tool or strategy, what it will fund and at what scale, the partners and stakeholders involved to acquire the funding, its strengths and limitations as a means to fund projects and programs, illustrative case studies, and references and resources for more background: https://www.legacy.civicwell.org/resource/new-funding-strategies-guidebook/