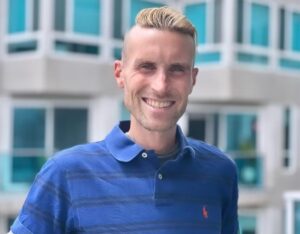 SACRAMENTO, CA — CivicWell, a Sacramento 501(c)3 nonprofit organization supporting leaders responding to the climate crisis and its impact on their communities, has selected Bill Sadler, a leader in public health and sustainability, to lead its CivicSpark AmeriCorps program. 
Bill Sadler brings more than fifteen years of experience working with nonprofit organizations, government agencies, and coalitions in California and across the country on equitable public health, climate change, and transportation policies and strategies. He previously worked at the Public Health Alliance of Southern California, where he led the operations, project management, and policy for a coalition of ten local health departments representing 60% of the State of California's population. In this role, Bill helped oversee the launch of the Healthy Places Index mapping tool, expand health equity and racial justice efforts, and provide technical assistance and critical support to local health departments during the COVID-19 pandemic. 
Sadler has a passion for working to improve policies and transform systems in ways that create healthier, more equitable and sustainable communities. He states, "I am excited to join the CivicWell team as its new CivicSpark Program Director. This role brings together many of the issues, passions and experiences that have been a common thread throughout my career, and I look forward to working with the CivicWell team, Fellows, and our many partners to build, strengthen, and sustain this important program."
Sadler holds a law degree from the University of Minnesota Law School, a master's degree in urban planning from the University of Colorado Denver, and a bachelor's degree in economics and communication from Boston College. He lives in Los Angeles with his husband and their dog.
Kathy Chow, CivicWell Interim CEO, welcomes the announcement. "With his wealth of expertise in the environmental and public health sector, Bill will bring strategic leadership to the program during an exciting phase in its growth. We are fortunate to have him at the helm of CivicSpark as it strengthens its California footprint and builds capacity for local governments and organizations in Colorado and Washington."
CivicSpark, a program of CivicWell, is dedicated to building capacity for public agencies to address emerging environmental and social equity resilience challenges such as climate change, water resource management, affordable housing, and mobility. Since 2014, over 620 Fellows have provided over 900,000 hours of service to more than 320 local public agencies through over 875 projects. And this year, after eight successful years in California, the program expanded and now also places Fellows in Colorado and Washington state. 
###
Contact: Haley Ausserer-Zelaya