"If you set the goal as homefulness, you have to think, 'How do we get to that?' So many times, people think they have to get a Ph.D. so they can get grant money to do a study to find out that the number-one thing to do to fight homelessness is to give someone a home."
-Pastor Jeff Obafemi Carr, Nashville, TN
As we enter into the holiday season, it is important to remember those in our community who are less fortunate.
Local economies still experiencing the residual effects of the recession, cuts to social services and the lack of affordable housing has intensified the problem of homelessness in many communities across the state and the nation. As California anticipates an El Niño year, the seasonal impacts of a cold, wet winter upon our most vulnerable community members without shelter weighs heavy on our minds.
Each year, it is estimated that more than 150,000 American families experience homelessness, and are forced to seek emergency shelter for themselves and their children. Homelessness in and around big cities increased 3% this year, according to a recent report from the U.S. Department of Housing and Urban Development.
California accounted for 21% of the nation's homeless population in 2015. Los Angeles, with a counted homeless population of 12,356, jumped to the top of the list among cities with the most chronically homeless people in the country. San Diego's homeless population rose to 8,742 this year, a 2.8% increase over last year – pushing it into the top four for the first time behind the metropolitan areas of Seattle, Los Angeles and New York City.
At its most fundamental level, a "sustainable" community is one that is livable for residents across a range of income levels and mental-health/social-service needs. As California cities work to redevelop and revitalize their downtowns and increase public safety, it will be increasingly important for local governments to pursue strategies that also address homelessness – as the end of a community's livability and affordable housing spectrum – in ways that provide a real "leg up" for our most vulnerable neighbors.
Tiny Houses Can Make a Big Difference in Sonoma County
In November, Sonoma County officials took the first steps toward creating tiny-house villages as a low-cost way to house the county's homeless.
Sonoma joins several other cities and counties using tiny-house villages as a way to shelter the homeless. According to a Shareable article Olympia, WA, converted a homeless encampment into Quixote Village, a tiny house village with 30 homes; Madison, WI, has seven mobile units in an old car garage; Austin, TX, is developing the Community First! village; and Eugene, OR, has a 30-unit tiny-house village community.
The Sonoma Board of Supervisors authorized $75,000 for county staff "to analyze six sites in Santa Rosa that could host a village – eight to 12 structures, including the possible installation of mobile trailers, small cabins or shipping containers," reports The Press Democrat.
The plan is to determine a test site by December and invite developers to submit their concepts for a tiny-house village. If the test village is successful, the model could be replicated across the county.
Facing what Supervisor Shirlee Zane calls "crisis mode when it comes to affordable housing," Sonoma County has more than 3,000 homeless, with 2,000 of them sleeping outside.
"We really can't afford not to use every single tool in our toolbox, and here is another one," Zane told The Press Democrat.
Tiny-House Village in Texas Offers More Than Just Shelter
Community First! Village will offer affordable housing to some 200 chronically homeless residents in Austin. The project is on a 27-acre property sprinkled with tiny houses, mobile homes, teepees, refurbished RVs, a three-acre community garden, a chapel, a medical facility, a workshop, a bed and breakfast, and an Alamo Drafthouse outdoor movie theater.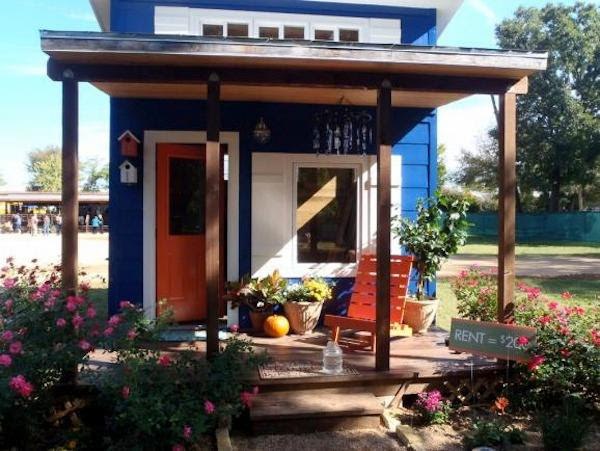 Alan Graham, a supporter with Mobile Loaves and Fishes, notes that the price of not housing these folks costs taxpayers about $10 million a year, not to mention the emotional and psychological tolls on homeless individuals and families.
For the most part, local residents seem to be in favor of the project. "We haven't converted everybody, but when people come out here they go, 'Oh!' They see a chapel; they see medical and vocational services on site, and they learn that residents will not live there for free; they'll pay a monthly rent," said Graham.
Read more about these residents
Tiny Houses Sound a Positive Note in Nashville
In Nashville, Pastor Jeff Obafemi Carr plans to help residents without permanent shelter by building 60-square-foot houses. Carr has raised nearly $67,000 – enough to build six tiny homes. The buildings are now set up, on wheels, in the backyard of the Green Street Church on Nashville's east side, part of a sanctuary that also houses homeless people living in tents who moved from a recently closed encampment in one of Nashville's parks.
The homes are brightly painted yellow, blue, orange and purple, with red doors and white trim. They cost about $7,000 each to build, and measure 5-by-12 feet on the inside. Residents use bathrooms in the church, and shower outside with a hose. They eat donated food and drink coffee set up under a tent in the yard.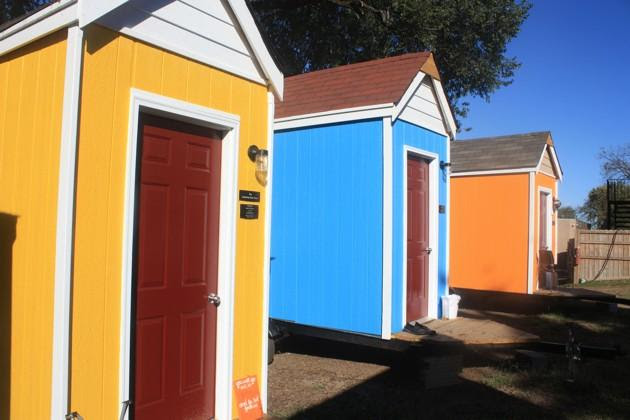 "It's a lot better than living in a tent, and if you've got some Yankee ingenuity in you, you can figure stuff out," Peter Regan, who lives in one of the homes, told The Atlantic.
Regan has been on the wait list for a Section 8 housing voucher for months.
"This model provides a stepping stone to homefulness," Carr told The Atlantic. "If you set the goal as homefulness, you have to think, 'How do we get to that?' So many times, people think they have to get a Ph.D. so they can get grant money to do a study to find out that the number-one thing to do to fight homelessness is to give someone a home."
Tiny homes for the homeless may not be the ultimate solution policy wonks dream of. Indeed, the Vanderbilt study found that housing-choice vouchers, which allow families to live in market-rate apartments, are among the best solutions for homelessness. But in many booming cities, including Nashville, where rents are rising and vouchers can be hard to come by – and there's little City money for anti-homelessness programs – short-term solutions such as tiny homes may make sense.
Seattle Uses Public Land to Shelter Homeless
The 2016 New Partners for Smart Growth conference, presented by CivicWell (formerly the Local Government Commission), will include a "Tent Encampments and Tiny Houses" session on shelter strategies for cities to use their public land for tent encampments and tiny-house villages as an appropriate crisis response to homelessness.
The session will focus on Seattle as a national model for using city-owned land for homeless encampments. In 2013-14, the Low Income Housing Institute, Nickelsville and the Tabernacle Missionary Baptist Church spent a successful year in partnership hosting and managing a tent city concentrating on the needs of unsheltered families with children in Seattle.
In 2015, the City of Seattle passed ground-breaking legislation authorizing the use of city land for tent encampments. This session will detail how homeless people, nonprofits, churches and local governments can partner to operate safe encampments for homeless families and individuals.
Oakland Declares Shelter Crisis
Earlier this month, the Oakland City Council declared a "shelter crisis," cosponsored by Councilmember and LGC Boardmember Abel Guillén, and passed an ordinance that will temporarily ease some standard building and zoning requirements for the City to more rapidly create additional shelter for homeless people living on Oakland streets.
Under the new ordinance, the City would be able to convert a nonresidential building such as a warehouse into a shelter, adding beds and support services for the homeless. The declaration will be in effect a minimum of one year.
Oakland currently has about 400 beds available at facilities this winter, not enough for the approximately 1,400 homeless people who lack shelter on any given night. A new shelter is a short-term response as the City seeks to implement longer-term, sustainable strategies to address the larger crisis of affordable housing. Oakland needs to build 15,000 new market-rate and affordable housing units in the next few years. Adding shelter beds is a critical first step and safety net to help our fellow residents who are in immediate and dire need.
The City of Oakland has also established an interdepartmental task force to examine other, more sustainable and effective approaches for housing the homeless, including reallocation of the substantial annual City resources used for public safety, health and cleanup to house and assist the homeless in a different way.This has been done in other cities using sanctioned shelters with more extensive support services and storage so that underlying problems can be addressed.
Effective Strategies to Achieve Long-term Results
Tiny houses and other strategies to increase emergency shelter are good near-term steps to address homelessness, but to truly move the needle will require more comprehensive strategies. According to the first large-scale study ever conducted to assess the effectiveness of homelessness assistance programs for families, subsidized housing vouchers are more effective in curbing the homelessness cycle than other programs. Results were announced at a July HUD briefing in Washington, DC.
"The Family Options Study on Short-Term Impacts of Housing and Services Interventions for Homeless Families," which examined more than 2,000 homeless families in a dozen communities over an 18-month period, was conducted by the U.S. Department of Housing and Urban Development in partnership with Vanderbilt University and Abt Associates.
Subsidized-housing vouchers and stipends to help families pay for housing costs were found to be the most effective in stabilizing families, reducing school mobility and improving family well-being. The cost of the vouchers was also comparable to, or substantially less than, the other interventions.
The researchers evaluated permanent housing subsidy (housing vouchers), community-based rapid re-housing (temporary rental assistance), project-based transitional housing (temporary housing) and usual care (shelter).
"Subsidized housing was good for stabilizing the family, which led to adult well-being, reducing intimate partner violence by half," she said. "Child well-being improved and other psychosocial issues were more likely to be resolved," said Marybeth Shinn, professor and co-lead investigator at Vanderbilt.
According to the report, rapid rehousing (a relatively new billion-dollar Recovery Act program) is less costly than many other programs ($900 per month), but ultimately is not keeping families out of the shelter cycle as well as hoped, the findings show. Shelter care was by far the most expensive option at $4,800 per month, as compared to transitional housing ($2,700) and vouchers ($1,200).
The study continues for another three years.
"The longer-term analysis will answer more questions about the sustainability of the programs," Shinn said.
One thing is clear – local governments will need to act now to assure that the most vulnerable in our communities have shelter in the cold, rainy months to come while also working to address longer-term strategies to break the cycle of poverty that puts so many people continually at risk.
Header photo by Giles Bruce for KHN, via NPR