The COVID pandemic and related closures of offices, gyms and other indoor gathering places have emphasized the importance of parks and other outdoor public spaces.
In densely populated areas where people live in smaller spaces, it's especially critical for the health and well-being of residents that cities create shared open space that everyone can use.
High Line Park in Manhattan
In New York City, High Line Park, located on a former freight line on Manhattan's west side, is an example of nontraditional public spaces.
Now a 1.5-mile-long park, the High Line was once a rail line, elevated 30 feet high, operating from 1934-1980 to carry goods from the west side docks to nearby factories in Manhattan. When shipping containers were introduced the factories and the port died off, the High Line sat unused and largely abandoned.
In 1999, neighborhood residents formed the "Friends of High Line" nonprofit to advocate for the preservation of the High Line as part of a larger West Side improvement project.
With the support of Mayor Bloomberg, the area was rezoned to establish the special West Chelsea district and allow mixed uses. They also implemented tools and provisions to create tax revenue to offset the City's renovation costs for the park. Among these strategies were provisions that let developers build higher than zoning allowed for a $50 per square foot fee and a transferable development rights (TDRs) area which allowed property owners to sell their new, unbuilt TDRs to noncontiguous landowners. A 30% zoning set-aside for affordable housing helped address concerns about gentrification.
The owner of the railroad structure donated the High Line to the City in exchange for release of all liabilities. Capital construction for the park cost $152.3 million ($112.2 million from the City, $20 million in federal funding and $400,000 from the state).
Construction began in 2006, and the new park opened in 2009. Sustainability measures include native, drought-tolerant, low-maintenance species and onsite composting. The park also functions as a green roof, and its porous pathways allow water to drain and reduce stormwater that runs into the sewer system.
The park is owned by the City of New York and maintained, operated, and programmed by the Parks and Recreation Department in partnership with the Friends of the High Line. The Friends of the High Line provide 98% of the park's annual budget.
By 2013, the City's analysis put the economic benefit of the park at close to a billion dollars. Accounting for the City's investment of about $115 million, its net benefit over 20 years will be more than $900 million – a return on investment of more than 800%.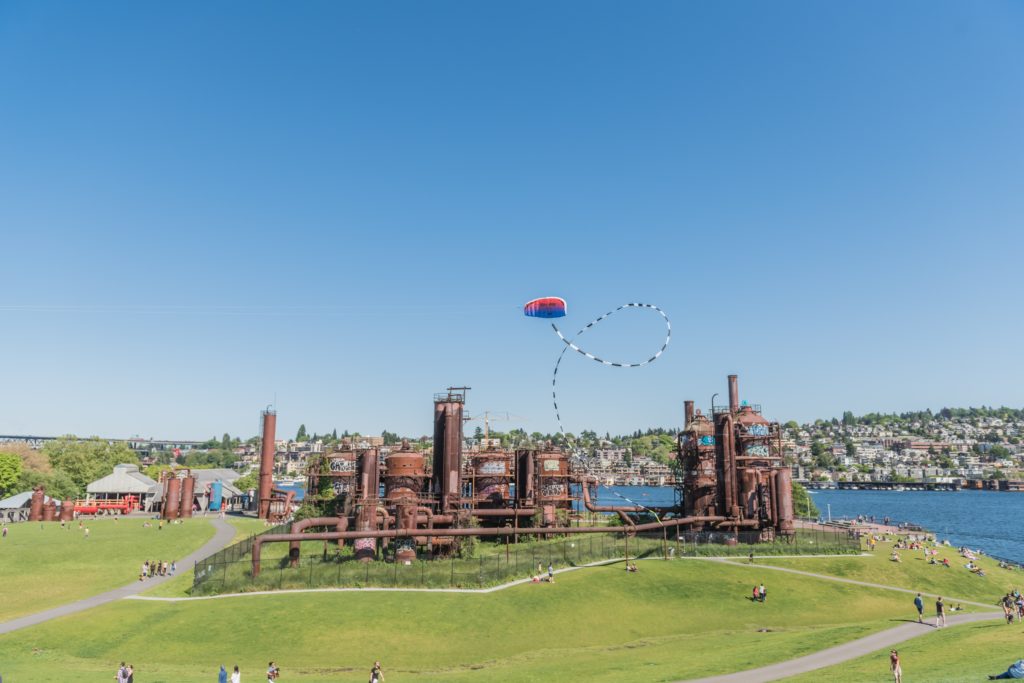 Seattle's Gas Works Park
Seattle transformed one of its least-valued pieces of private land into one of its most popular parks.
Gas Works Park, which sits on 20.5 acres north of downtown Seattle along the north shore of Lake Union and offers stunning views of the Seattle skyline, previously functioned as a gas manufacturing plant and former garbage-burning site.
When the plant closed in 1956, it only served as an eyesore for the neighborhood. The City purchased the land for $1.3 million and allocated $1.75 million to transform the polluted site into a thriving urban space.
The park was opened to the public in stages between 1973 and 1976, owned and operated by the City Parks and Recreation Department. The nonprofit "Friends of Gas Works Park" was formed in the early 2000s to maintain the park.
While the City faced ongoing contamination challenges that needed to be addressed, the park is now a tremendous public asset for the community. It was listed as a Seattle historical landmark in 1999, and is also on the Washington State Historic Register and the National Register of Historic Places.
Designated a national landmark in 2013, Gas Works Park has become one of Seattle's most visited parks.
Pogo Pocket Park in Richmond, CA
Park projects don't always have to be grand in scale – Pogo Park, a local nonprofit organization, focused its efforts on transforming Elm Playlot, a half-acre "pocket park" located in a low-income, underserved neighborhood in the heart of Richmond's "Iron Triangle."
With a $1.94-million capital grant from the State of California Parks Department and the tireless leadership of community leaders, Elm Playlot is now a visible symbol of hope and change in a neighborhood where other public works projects have failed.
Pogo Park's process for rebuilding Elm Playlot – "from the inside/out" – is being hailed by the State of California Parks Department and others as a national model for what real, deep, and authentic community engagement looks like.
The park now includes a community center with a kitchen and bathrooms; a zip line, disc swings and a "Global Village" of child-sized houses; a separate tot lot for toddlers; and the "chill zone" where children participate in arts and crafts, play chess, or build with blocks. It serves thousands of children who live within walking distance.
Pogo Park has received subsequent grants to expand their work including a $6.4 million grant from the City of Richmond to build the first leg of the "Yellow Brick Road" – a project to build a safe walk-bike street through the heart of the neighborhood.
In 2017, Pogo Park was recognized with a "Community Leadership Award" from the San Francisco Foundation, and was featured among other outstanding parks around the world in "The Field Guide for Parks and Creative Placemaking."
They recently announced the launch of an $8.5 million enhancement of the Harbour-8 Park on the Richmond Greenway in the Iron Triangle neighborhood. The Conservation Fund transferred land to the City of Richmond and Pogo Park, laying the foundation for the enhancement.
A key milestone in Pogo Park's Harbour-8 Expansion Project, the addition of the adjacent lot will expand the linear park by 50%. The project will create jobs and training opportunities for 150 residents in one of the city's most under-resourced communities.
Recommendations
A research study from the RAND Corporation, City Parks Alliance and The Trust for Public Land recommended the following ways that cities can encourage residents to use parks more in general, and for physical activity in particular.
Improve Facilities and Amenities. To encourage park use, communities should consider features that are attractive to a range of people across age, gender, and socioeconomic status.
Add Targeted Programming. Programs and activities, such as the ones offered at High Line Park, are key to maximizing park use by a wide audience.
Complement Programs with Effective Marketing. Humans are social by nature, and activities can help draw residents in, especially if those program activities are paired with effective marketing to ensure that people know what's available in their parks.
Find the Funding. Parks are often funded through a mix of local, state, and federal funding (e.g. Community Development Block Grants and the Land and Water Conservation Fund). Private philanthropy can help, although it rarely occurs in lower-income neighborhoods. Cities are also partnering with national nonprofits such as KABOOM! or local community groups (like Friends of High Line, Friends of Gas Works Park, and Pogo Park). Crowdfunding campaigns and corporate sponsorship can also fill in funding gaps.
Resources:
Policy Corner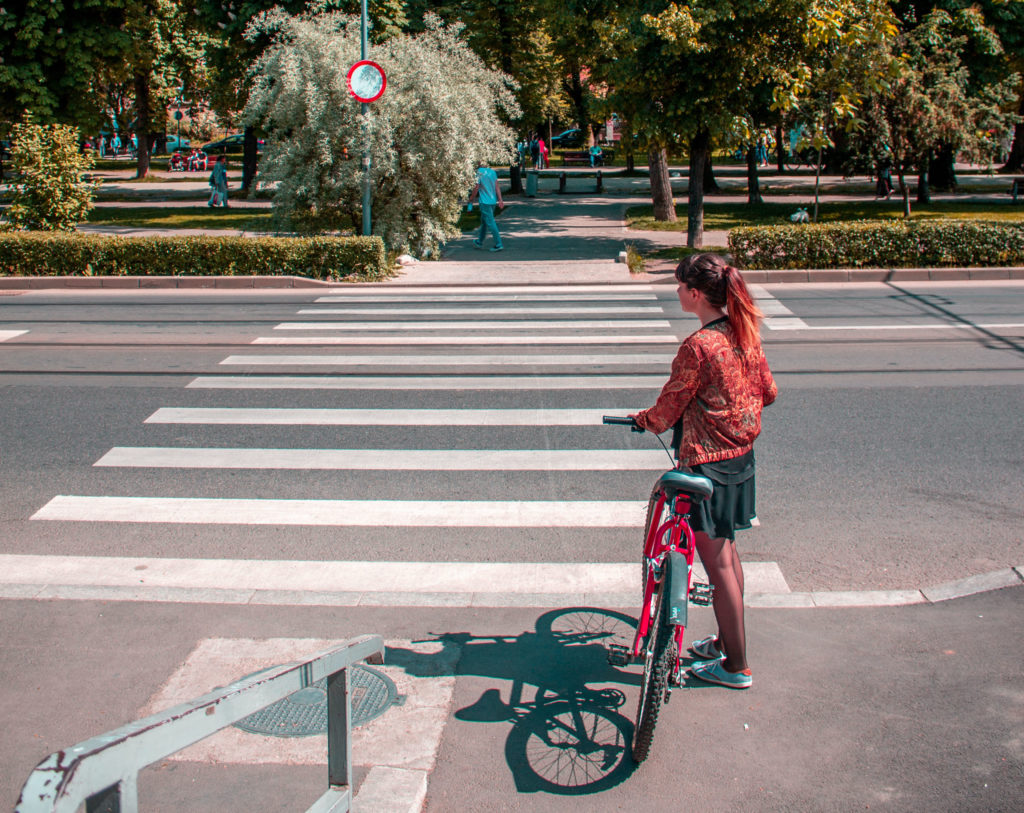 What Happened
The final curtain dropped on this year's legislative session when Governor Newsom wrapped up his work on bills sent to him by the Legislature on October 9th. In total, the Governor signed 770 bills or 92% into law and vetoed 66 bills or 8% of the bills. Among those bills signed was AB 43 by Assemblywoman Laura Friedman which will allow communities to consider public safety in setting speed limits on streets and roads. Up to now, speed limits under state law had to be set at a speed no lower than the 85th percentile of speed driven. The rationale for this standard was that it ensured that local communities did not institute "speed traps" intended to surprise the unwary and generate revenue. AB 43 will now allow communities to consider factors such as safety for pedestrians and cyclists in setting speed limits. Communities will also be permitted to round speed limits down from the 85% standard established pursuant to a speed survey. The impetus for the bill came from a report of the Zero Fatalities Task Force which had been created under prior legislation by Assemblymember Friedman.
Two other bills affecting pedestrians and cyclists did not fare as well. AB 122 by Assemblymember Tasha Boerner Horvath and AB 1238 by Assemblymember Phil Ting were both vetoed by the Governor. AB 122 would have allowed cyclists to yield rather than come to a full stop at intersections controlled by stop signs. The so-called "Idaho stop" requires cyclists to use caution and prudence when entering a controlled intersection, but allows riders to avoid the physically demanding exercise of dismounting and coming to a full stop even if there is no cross or ongoing traffic. Governor Newsom pointed to California injury statistics to opine that signing the bill would make cyclists less safe, but not statistics from other states that indicate the procedure does not compromise safety.
AB 1238 would have permitted jaywalking and prohibited fines or penalties for jaywalking when no cars are present. Supporters of the bill argued that jaywalking is not unsafe when no traffic is present, and that the prohibition on jaywalking is often enforced in a very disparate manner and without regard to protecting public safety. In vetoing the bill, Governor Newsom noted his support for eliminating discriminatory treatment, but worried that the bill would jeopardize safety for pedestrians.
What's Coming Up
With the budget trailer bills signed, implementation by the responsible state agencies is up next. Particular interest will focus on the work which will be done by the Office of Planning and Research (OPR) and the Strategic Growth Council (SGC) to develop guidelines and funding procedures for local and regional climate adaptation planning and implementation. Of the three-year, $3.7 billion Climate Resilience Package, $275 million is dedicated to this effort. For 2021-22, $35 million has been appropriated to OPR and SGC to get the programs initiated. As a precursor to that work, OPR and the Natural Resources Agency (CNRA) have released a draft Climate Adaptation Strategy and are seeking public comment until November 17.
This year was marked by an unprecedented $75 billion state budget surplus with an additional $27 billion in federal pandemic relief funds. Governor Newsom has announced that a $75 billion surplus is now anticipated for next year as well. The tidal wave of good financial fortune means that this year's historic investments in clean vehicles, drought and water resilience, forest and wildfire resilience, broadband expansion and improvement, housing and homelessness assistance as well as climate resilience can be potentially followed up with additional significant allocations. Between now and early January, the Administration will assemble its proposals for the budget year ahead. Hopefully, those proposals will underscore an even deeper commitment to equity, prosperity, and sustainability for communities across California.
Board Highlight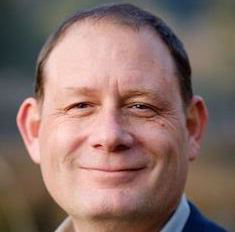 The Humboldt County Board of Supervisors has unanimously passed a resolution, brought to the board by Supervisor and LGC Board Member Mike Wilson, to oppose potential coal exports through Humboldt Bay.
"I think it's reasonable for Humboldt County to take the potential for coal exports seriously," Wilson said. Read more in a recent article from Lost Coast Outpost.