For decades, sprawl development has contributed to problems that threaten the well-being of our population, such as declining air quality, oil dependency, climate change and skyrocketing costs of health-care. What has not been recognized, until the current economic crisis, is the damage this type of development has been doing to the municipal bottom line.
To further explore the impacts different types of development have on municipal coffers, CivicWell (formerly the Local Government Commission) partnered with Urban3 and the California Infill Builders Association to evaluate the property tax revenues generated by existing developments in three San Joaquin Valley cities – Modesto, Turlock, and Merced. What was discovered is that compact, mixed-use developments pay better dividends to local governments than low density, suburban development when compared on a basis of tax revenue generated per acre.
Valuing Downtowns
Upward Not Outward is a Smart Revenue Strategy for Local Governments
SAN JOAQUIN VALLEY MUNICIPAL REVENUES STUDY
Investing in Downtowns Yields More Property Tax Revenue per acre than Building on the Periphery
A new review of city and county property tax revenues in six San Joaquin Valley cities finds that focusing growth in downtown areas is usually a better bet for cash-strapped local governments than traditional urban sprawl. The study takes its direction from the agricultural understanding of land economics – which is calibrated on a per acre basis. The study finds that even small mixed-use developments near city centers achieve more revenue, on a per acre basis, for local governments than suburban-style development located at the periphery of a community where land values are typically lower. That's because multi-story structures, which are more common in downtown areas, use land more efficiently than expansive single-story structures with adjacent parking lots.
The report makes two important findings with relevance to the San Joaquin Valley region and other California communities:
The average downtown property provides significantly more property tax revenue per acre to city and county governments than big-box style retail developments.
In all six cities studied, centrally-located properties designed to serve multiple functions (retail, residential and office space) result in significantly higher revenue yields per acre than single-purpose properties.
Property Tax Revenue Comparison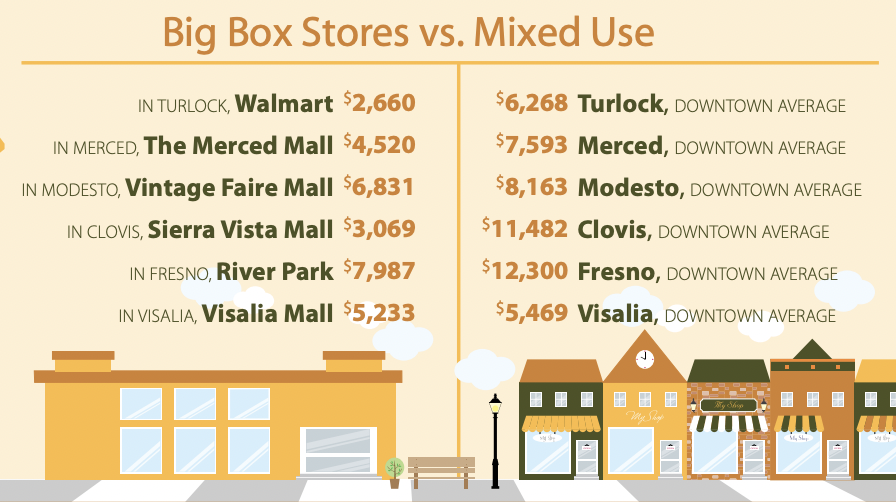 Making the Case for Downtown Investment
Modesto, CA
Modesto got its start as a railroad stop between Sacramento and Los Angeles. But the fertile farmland, proximity to the river and railroad traffic positioned it for growth well beyond its modest beginning.
Home to more than 200,000 residents today, Modesto will continue to grow.
The question is, will this growth be up or out? The recent San Joaquin Valley economic study, authored by Joe Minicozzi, provides insight to this question and illustrates the benefits of downtown growth, not just to the environment, but to city and county finances too.
Take 917 J Street; this simple 3-story mixed-use property containing Modesto's Sports Bar & Grill along with other commercial space, takes up just 0.16 acres of space yet generates significant property tax revenue
– to the tune of over $38,000 per acre.
Conversely, the Vintage Faire Mall, located near the edge of town consumes nearly 100 acres but generates just under $7,000 per acre.
1020 Tenth Street is another example. This three-story Class A office and retail property, home to Fuzio Universal Bistro, is located in the heart of downtown Modesto near the 13-story Double Tree Hotel and Brenden Theaters. It generates $60,481 per acre in property tax revenue.
Fresno, CA
When the Guarantee Savings Building was built in 1921, the California highway system was just getting started. Back then, Downtown Fresno was a bustling place. Now, that highway system connects a string of large-scale shopping centers, and downtown Fresno is not realizing its economic potential. While shopping malls used to be the gauge of a booming economy, many cities like Fresno are once again looking to downtowns for realizing the greatest return on public investment while providing jobs and housing for a growing population.
If history is any indicator, downtown buildings like the Guarantee will continue to bring property tax revenue to city governments for years to come. The Guarantee occupies just a fraction of the space of a shopping mall, yet it produces 38 times the property tax revenue of the average of Fresno's large-scale shopping centers. One of the earliest malls in Fresno, the Mayfair, is averaging an 80th of the per acre value of the Guarantee.
There are examples like this all over Fresno. Take for example the West America Bank Building that occupies less than an acre of downtown land. This 4-story mixed-use property is home to a variety of offices and retail space and generates significant city and county property tax revenue—over $119,962 per acre. By contrast, the River Park Shopping Center consumes nearly 81 acres but generates only $7,987 per acre in property tax revenue.
Repeating This Study in Your Community
Urban 3 obtained public assessors and GIS data from the counties of Fresno, Merced, Stanislaus and Tulare and the cities of Clovis, Fresno, Merced, Modesto, Turlock and Visalia, to build a database of properties in each city. The data indicates the property acreage, assessed value and the corresponding property tax revenues due to local governments. Researchers evaluated each property by dividing its revenue obligation by its acreage to arrive at a measure of the property's land efficiency as a revenue source. The results were sorted from low to high to facilitate comparison between land use types and locations.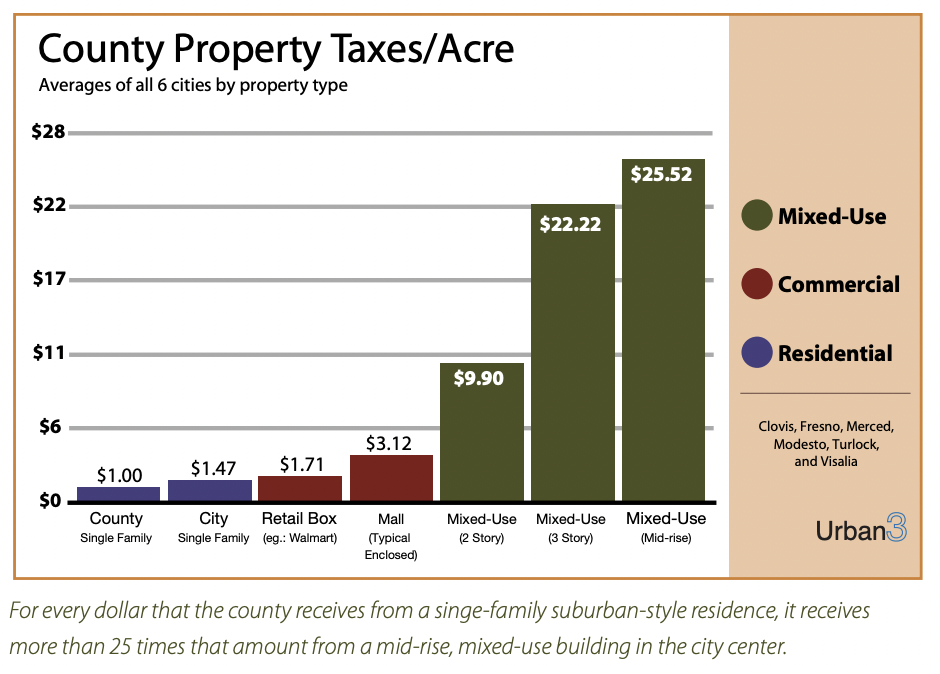 The study conducted by Joseph Minicozzi of Urban 3 for CivicWell and the Council of Infill Builders Association offers an alternate way to evaluate local growth decisions in California. More often than not, growth and development decisions are decided on the lure of promised sales tax revenue without consideration of how efficiently land is being utilized to generate revenues the city needs to provide
services residents rely on.
This study comes at a time when communities are slowly recovering from the economic slowdown and
are discovering the benefit of varying their building stock and the risk of relying too heavily on retail sales tax revenue from suburban-style stores and other resource-intensive developments.
"What's good for downtown is great for the city, but it's incredible for the county."
– Joe Minicozzi
Thinking like a farmer can benefit your community
The research suggests we can learn a lot about our cities if we think about the economics of land-use the way a farmer thinks about their farm. In knowing the costs and revenues of various kinds of development, we can find out where the smartest public investment yields may grow.
---
This 4-page Valuing Downtowns factsheet provides a summary of the work performed in the three San Joaquin Valley communities and describes how other communities can perform similar studies. Two newspaper articles covering the property tax analysis in the San Joaquin Valley are also provided below for download. Understanding the economics of land use decisions and how it affects a local government's bottom line is an essential conversation for moving boldly forward on creating walkable, transit-friendly communities.
Valuing Downtowns (PDF)
Invest in Downtown – Turlock Journal: PDF
Build up downtown to boost tax revenue – Modesto Bee: PDF