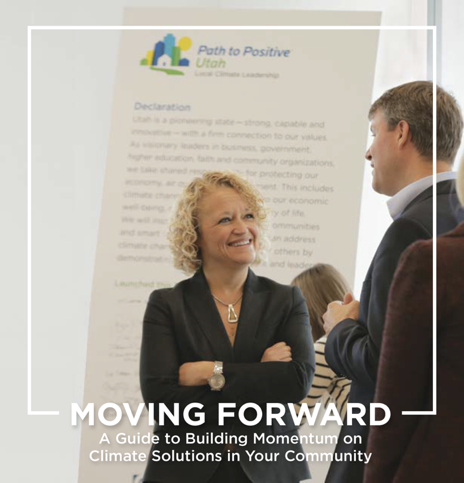 Americans want to live in healthy and vibrant communities where their families can thrive. Good jobs, flourishing neighborhoods, a healthy environment, and energy security are the economic bedrock for livable cities and towns in the decades to come. Local communities are also the best place for citizens to engage and for leaders to make progress in responding to the challenges of a changing climate.
CivicWell and Path to Positive Communities have partnered on a toolkit to help CivicWell members engage their communities around energy and climate solutions. Our goal is to support you as you advance sensible solutions, while encouraging cities and towns to build civic engagement into the work they do on resiliency and sustainability. When you engage your citizens, you help grow lasting public support for climate solutions. This toolkit includes several components, ranging from a communications guide, called "Let's Talk Climate," to a Moving Forward Guide, to a study on Mental Health and Climate. All the components can be found here.
Even if you are well on your way to resilience and sustainability, the toolkit has a checklist of possible solutions and additional climate actions that you might consider to go farther. Be sure to also sign up for our Path to Positive Communities newsletter and monthly talking points here, which provide helpful guidance for engaging citizens and countering negative detractors. We hope you find these useful for building support in your community for positive changes for a better, more sustainable tomorrow!